Dell EMC PowerEdge R340 is a single-socket, single-processor rack-mount server for remote and branch offices running data-intensive office and application programs. With the help of the presented server, business processes are significantly accelerated and their quality is improved, interaction with the IT infrastructure is improved and the enterprise is growing. Why such results become possible, this article will tell.
PowerEdge R340 server features
For SMBs, the PowerEdge R340 is the ideal entry-level server hardware. This is possible thanks to improved processor performance, storage and RAM scaling flexibility, design improvements and updates in IT infrastructure management. In addition, the increased resilience of the PowerEdge R340 server architecture to cyber attacks makes the equipment more secure.

Dell PowerEdge R340

Dell PowerEdge R340 back panel
The increased performance of the server is due to the doubling of the number of processor cores. Customers can choose from 4-, 6- or 8-core Intel Xeon E-2200 processors.
Processor scaling is possible by combining them with the Intel C246 from the Platform Controller Hub (PCH) chipset series. In other words, the PowerEdge R340 is a dual-chip platform with enhanced computing performance and the ability to run multiple applications simultaneously. Storage and memory are scaled to meet the requirements for computing resources:
support for up to 8 SSDs, SAS or SATA drives in SFF form factor

Dell PowerEdge R340 8SFF

Dell PowerEdge R340 4LFF
support for 4 DDR4 DIMMs up to 64 GB.
The case cooling system operates on a multi-vector principle, with automatic calculation and adjustment of air flow parameters, which reduce the risk of overheating the server and reduce power consumption.
IT infrastructure management is a set of innovative solutions to improve the efficiency and cost-effectiveness of IT operations and includes systems:
Embedded iDRAC9 with Lifecycle Controller (iDRAC Group Manager with Embedded One-to-Many Console) for rapid deployment, upgrades, and configuration of multiple servers simultaneously;
OpenManage Mobile with OpenManage Enterprise installation for remote access from anywhere from mobile devices;
ProSupport Plus and SupportAssist to automate alerts and predict problems.
All of these technologies simplify the tasks of IT staff and optimize the use of the PowerEdge R340 server throughout its life cycle.
Don't forget about security from PowerEdge
Responsible for the security of PowerEdge servers:
A software RAID array that consists of two or more disks. It is characterized by high fault tolerance in case of failures due to its redundancy;
firmware with cryptographic package signatures and secure boot systems;
iDRAC9 enterprise server tool that blocks malware;
System Erase - a function for quickly and without a trace deleting all information from the storage system.
The security system also optionally includes TPM 1.2 / 2.0 and TCM 2.0
Specifications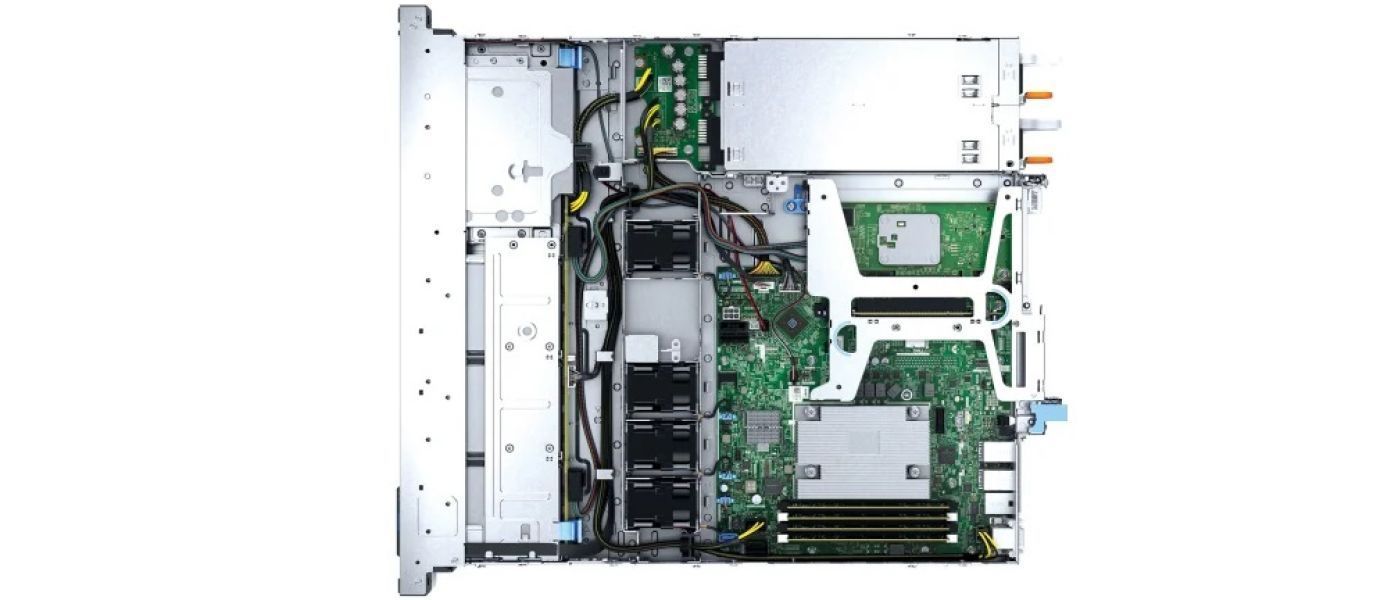 Dell PowerEdge R340 - view from above
You can get acquainted with the technical characteristics of the PowerEdge R340 servers in the table.
Feature
Description
Processor
1 Intel® Xeon® E-2200 series processor
RAM
DDR4 DIMM memory, support 4 UDIMMs, speed up to 2666MT/s, maximum capacity 64GB. Support for Registered Memory with ECC
Storage controllers
- Software RAID: PERC H730P, H330, HBA330 (non-RAID)
- External HBAs: 12 Gb/s SAS HBA (non-RAID)
- Boot Optimized Storage: 2x 240GB M.2 (RAID 1 or non-RAID), 1x 240GB M.2 (non-RAID only)
Disks
Up to 8 x 2.5" SATA, SAS (optional) or hot-swappable SSDs
or
Up to 4 x 3.5" SATA, SAS (optional) or hot-swap SSDs
Power supplies
One or two hot-swappable redundant 350W (Platinum) or 550W (Platinum) power supplies
Dimensions
Form Factor: Rack (1U)
Chassis width: 434.00 mm
Chassis Depth: 534.496mm (3.5" HDD configuration)
Chassis Depth: 483.716mm (2.5" HDD configuration)*
Chassis weight: 29.98 Lbs
*Dimensions do not include front panel and redundant power supplies

Built-in controls
Built-in iDRAC9 controls with Lifecycle Controller
iDRAC direct connection
RESTful iDRAC API with Redfish
Front panel
Protective front panel (optional)
OpenManage software (installation of consoles and mobile version)
OpenManage Enterprise
OpenManage Essentials
OpenManage Power Center
OpenManage Mobile (requires OpenManage Enterprise installed)
Toolbox
iDRAC Service Module
OpenManage Server Administrator
Dell EMC Repository Manager
Dell EMC System Update
Dell EMC Server Update Utility
Dell EMC Update Catalogs
Dell EMC RACADM CLI
IPMI Tool
Expansion slots
2 PCIe Gen 3.0 slots:

one low-profile x8 half-length connector with four times the bandwidth
one x16 half-length low-profile/full-height connector with eight times the bandwidth

Input/output and ports
2 LOM 1 GbE NIC ports
Front: One USB 2.0, one Micro USB 2.0 iDRAC Direct compliant
Rear: Two USB 3.0 ports, one VGA, one serial port
Internal port: one USB 3.0 port
Security
TPM 1.2/2.0 security (optional)
Cryptographic microcode signature
Root trust firmware in processor
Secure Boot
System lock (requires OpenManage Enterprise installation)
Erasing all data in the system
To mount the server in a rack, ReadyRails are used, optionally equipped with a bracket for routing cable routes through four-post racks. Racks with threaded holes are complemented by adapter brackets.
Application area
The PowerEdge R340 is a one-stop business solution, especially for companies with remote offices and branch offices. Most commonly used for web hosting, recovery and backup systems, mail, messaging, file and printing, collaboration and sharing.
If you need to buy PowerEdge R340 servers, please contact the specialists of our company. We will select the desired configuration of the presented equipment, optimally suited to the specifics of your business.