DDR5 SDRAM (Double Data Rate Synchronous Dynamic Random Access Memory) is the fifth generation of synchronous dynamic memory with the double data rate, increased capacity and reduced power consumption. It's compared with the previous generation DDR4 SDRAM memory module.
At 2017 the development of DDR5 SDRAM was initiated by JEDEC and the world's largest manufacturers of the semiconductor memory systems and the chipset architects were involved in this process. At October 6, 2020, SK Hynix 6 presented the first new-generation memory module for the testing. According to the test results, DDR5 was able to support a data transfer at speeds of 4800-5600 Mbps per pin (which exceeds the same base indicator of DDR4 by 1.8 times), work with a voltage level reduced from 1.2 to 1.1 V (which has a positive effect with its energy efficiency). In addition, support for ECC error correction has been included in the new generation memory functionality. DDR5 SDRAM entered the market at 2021.
Evolution of DDR
The first generation of upgraded RAM was DDR (or DDR 1) RAM where faster and more efficient generations were developed. Currently, most modern PCs and the servers use DDR4 RAM, without the backward compatibility. If you need to install DDR4 on a computer or on a server with DDR3 RAM, you will need to install more advanced updated motherboard on the equipment. In the same way, a computer with a modern motherboard won't be able to use morally and technically obsolete DDR3 or DDR2 RAM.
The move from DDR4 to DDR5 requires Intel and AMD the releasing motherboards, supporting the new RAM protocol. At the same time, DDR5 will allow scaling each level up to 16 Gb per chip (up to 64 Gb in total) and implements two 40-bit channels (32 data bits + 8 ECC bits) within each DIMM, and the number of contacts per memory channel will remain the same - 280 units. The power controller in DDR5 moved to the board, in addition to 8n, a 16n-prefetch mode has appeared. The capacity of DDR5 modules (introduced by SK Hynix and manufactured using Through-Silicon-Via technology) can be up to 256 GB.
DDR 5
In addition, to above differences from DDR4, DDR5 memory modules characterized by presence of:
built-in power management microcircuit (PMIC) at the integrated level, regulating power for each component in the module - DRAM, register, SPD hub. At the same time, DDR5 used in servers are equipped with 12 V PMICs, and PC-class modules are equipped with 5 V PMICs. It ensures an optimal power distribution, improves signal integrity and reduces a percentage of noise pollution;
SPD hub is a device combining the non-volatile memory (EEPROM) part of Serial Memory Module Identification (SPD) with auxiliary functionality of the hub. This device is also responsible for managing access to the external controller and for the load balancing between external and internal memory buses;
module key, suitable for DDR5 connectors only. Module keys developed recently RAM are divided into two types - for UDIMMs and RDIMMs;
On-Die ECC (Error Correction Code) function, allowing to eliminate the bit errors in DRAM chip and thereby reduce the risk of data leakage associated with defects in the chips. Outside of chips (when the problem needs to be solved already with the servers and workstations), special ECC-class memory modules with additional DRAM bits will be more productive for a quick correction of single-bit or multi-bit errors;
additional temperature sensors installed on RDIMMs and LRDIMMs DDR5 server class and allowing for the most accurate control of system cooling;
increased number of the memory blocks (from 16 to 32) and serial queue length (8 to 16), forming the bus more efficient and reducing the number of read / write operations that allows to work with the same data lines in a cache;
Decision Feedback Equalization (DFE) maintaining a signal integrity in module and an increases throughput.
In addition, DDR5 supplemented by SAME-BANK Refresh team. It also works to increase a performance and efficiency achieved by updating with one memory bank in a particular group of banks (rather than the entire group, as in DDR4).
Is it worth switching to a new memory right now?
Despite the fact that DDR5 has serious design advantages and a direct correlation between performance and memory frequency, it is still too early to speak unequivocally about the transition to a new memory. This is due to DDR5 compatibility only with the computers equipped with 12th generation Intel Core processors (Intel Core i9-12900K, Core i7-12700K and Core i5-12600K, as well as their "KF" modifications) and motherboards with an LGA socket 1700.
However, a presence of ECC technology that needs the servers, justifies the transition to DDR5.
What's next for DDR5?
The prospects for DDR5 demand are associated with an emergence of AMD processors based on Ryzen 7000 (Zen 4) architecture - their release expects at 4th quarter of 2022; moreover, the cost of the updated RAM standard will directly depend on the cost of Ryzen 7000. The new generation memory will become available to the mass buyer no earlier than 2023-2024.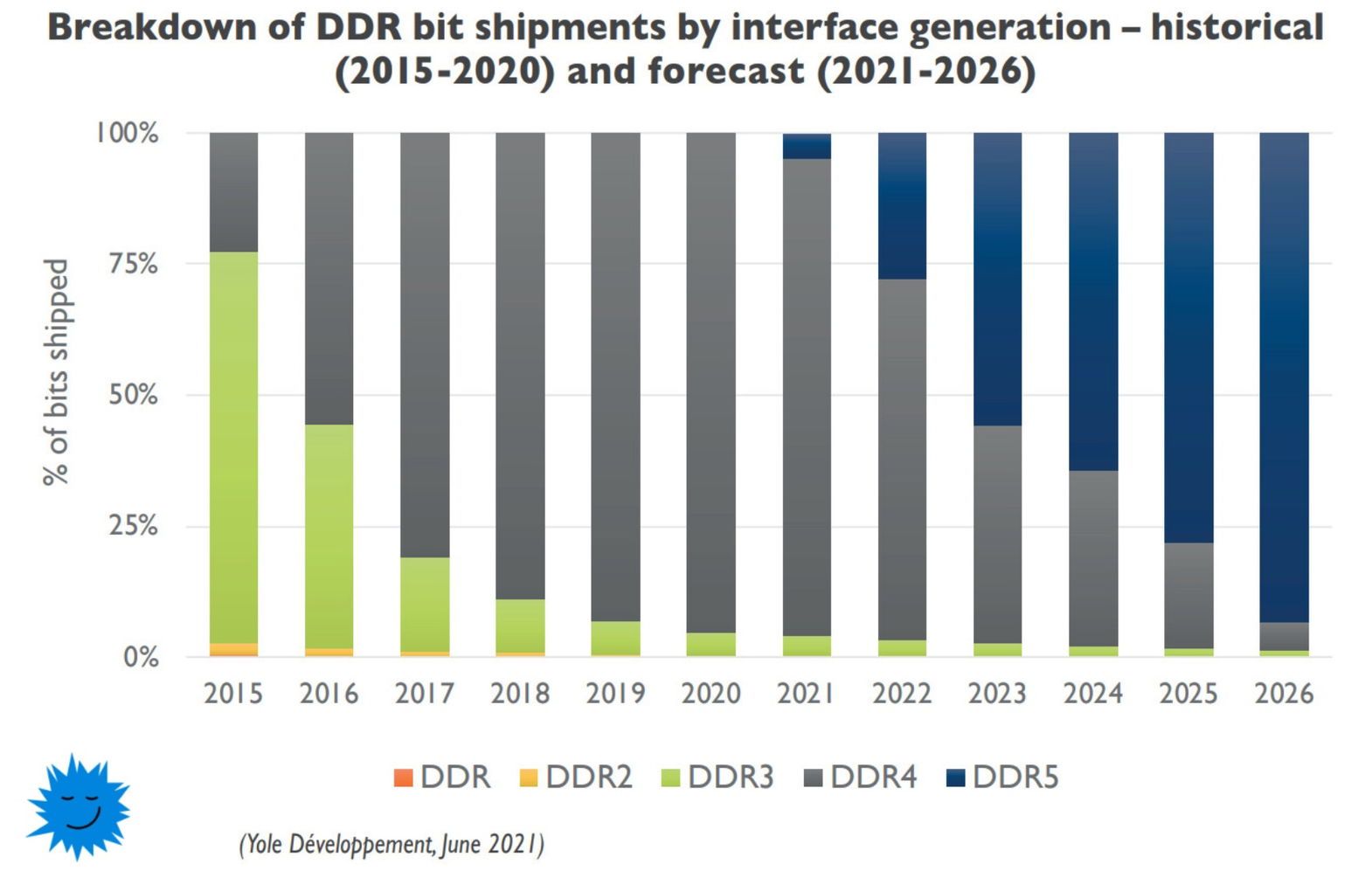 Estimated DDR5 Growth Analysis from Analysts at Yole Developments
Which servers support the new memory
Currently, DDR5 support is only available for the servers running Intel Xeon Scalable Sapphire Rapids and AMD EPYC Genoa processors. Going forward, the servers equipped with Zen 3+, Zen 4, and Alder Lake processors will also be able to support a new memory. At the same time, Alder Lake, which will consist of Golden Cove and Gracemont cores, will simultaneously work with DDR5 and DDR4 (if a new motherboard will be installed).
The new memory modules, due to their high capacity and performance, will be the optimal solution for the data processing applications in artificial intelligence systems and a high performance computing.