To manage a vast array of files, including movies, photos, and music, we recommend investing in a NAS (Network Attached Storage).
What is a NAS?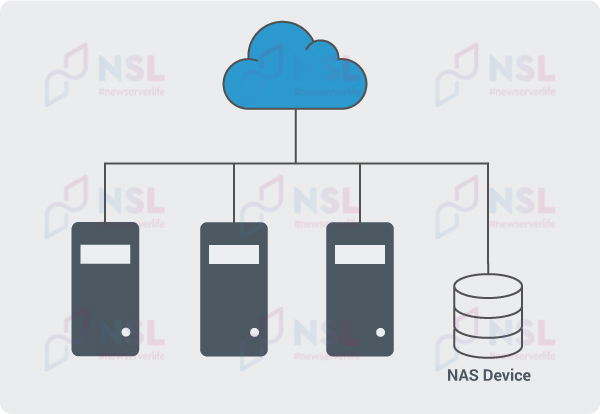 A Network Attached Storage (NAS) is a storage system that functions as a mini-computer connected to a network with an array of disks. Unlike a conventional PC, a NAS is equipped with specialized hardware and software. The primary functions of its software include access control, addressing specific data storage and backup challenges, supporting applications, and more. A NAS is configured and managed via the network, typically through a web browser. It's worth noting that NAS storage systems do not come with a screen or keyboard.
Technical specifications
NAS storage is technically characterized by the following:
RAID Configurations: NAS data can be stored in redundant RAID arrays. Supported RAID configurations include RAID 0, RAID 1, RAID 5, and JBOD.
Drive Specifications:

Number of pre-installed drives: Ranging from 1 to 8.
Total storage capacity: Up to 18 TB.
Drive form factor: Options include 3.5", 2.5", and SSD.
Drive Bays: Number of bays for adding additional drives with the capability for hot-swapping.

Network Protocols: Supports the iSCSI network protocol based on TCP/IP, which is designed for interfacing with servers, storage systems, and clients.
Processor:

Frequency: Processors based on ARM architecture are considered predominant for NAS systems.
Software Compatibility: The capability to install additional software packages is contingent on the processor's performance.

Connectivity:

eSATA Ports: Number of eSATA ports for utilizing the External SATA interface.
RAM: For optimal NAS performance, it's beneficial to have as much RAM as possible. The ability to install additional software packages also hinges on RAM capacity.
USB Ports: Types and numbers for connecting external devices such as media storage, printers, or backup drives.
Networking: The ability to connect the NAS wirelessly and the number and speed of Ethernet ports for wired connections.

Supported Server Functions:

UPnP/DLNA: For transmitting and receiving various media content over the network.
FTP: For user authentication, access control, and resuming file transfers if connections drop.

Backup Compatibility: The NAS should also support backup functionalities for PCs using Mac OS.
Nas main functions
NAS serves multiple purposes including:
Specialized Storage Creation: NAS can be tailored for specific file formats using installed applications (or packages). To enhance NAS capabilities, the following packages are commonly employed:

Video Station and Audio Station: Optimized for multimedia storage, offering streamlined video and audio streaming across various devices.
Moments: An intelligent tool designed for creating photo albums, arranging images using artificial intelligence.

Data Storage Solutions: NAS is pivotal for data storage and ensuring seamless access to these files. This requires the configuration of the appropriate disk array, creating network folders, and managing user access. Further functionalities include the ability to:

Establish a shared trash bin.
Set access restrictions for specific users.
Grant users access to designated materials within selected network folders.

Backup Solutions: NAS offers centralized backup services, storing file replicas. These backups are generated as per a schedule determined by the NAS administrator. Moreover, files are stored in multiple versions, ensuring the ability to revert to the desired version when needed.
Collaborative Features: NAS enhances teamwork by facilitating:

Cloud-based file sharing.
Collaborative editing of documents in real-time via an integrated office suite in browsers.
Utilizing chat functions for communication.
Nas selection: expert recommendations
When selecting a NAS, consider the following aspects:
Security: Ensure there's protection against unauthorized access and the capability for data encryption.
User-Friendliness: Ideally, the NAS should be easy to use without frequent need for specialized IT maintenance.
Reliability: Prioritize NAS systems that are known for their reliability, fault tolerance, and support for continuous 24/7 data access.
Processor Power and Performance: This is especially vital for NAS systems operating with multiple users simultaneously.
RAM Requirements: Adequate RAM is essential for running several programs concurrently without affecting their speed and performance. Typically, one terabyte of hard disk storage should be paired with at least one gigabyte of RAM.
Compatibility: To circumvent potential disk and device compatibility challenges, consider purchasing a NAS with pre-installed drives.

Our experts are on standby to assist you in selecting the right equipment tailored to your specific needs and technical requirements.