If the work of the IT system is difficult due to the imperfection of the storage architecture, lack of resources for computing operations, or problems with expansion and upgrade, you should pay attention to the new generation solution from HPE – the HP ProLiant DL380 Gen10 server.
This equipment is rightfully recognized as one of the most reliable, productive and secure computing platforms and is considered the most successful and acceptable option for deploying a server environment that works with any application, from basic to mission-critical.
Generation comparison
The creation of the Gen10 server line was based on the experience of developing previous generations of the HP ProLiant DL380 and on the study of user feedback. At the same time, the new generation significantly outperforms all previous servers (since 2001) in terms of performance, memory capacity, infrastructure management capabilities, storage controllers, network controller.

When comparing the HP ProLiant DL380 Gen10 with 9th generation servers, the new hardware features optimized features, in particular:
support for the new family of 1st and 2nd generation Intel Xeon Scalable processors (series 8100, 6100, 5100, 4100, 3100), which gives a significant increase in performance of Gen10 servers by 60% and increases the number of cores used by 27%;
up to 2666 MHz memory frequency (up to 2933 MT/s) with 6 channels per CPU, 3 TB of HP DDR4 Smart Memory, up to 192 GB of HPE Persistent Memory NVDIMMs;
an increase in the number of PCI-e 3.0 expansion slots up to eight units;
new iLO 5 controller with more comprehensive monitoring, advanced security, encryption, and support for breach detection and prevention technology (server configuration lock tools, iLO security dashboards, Active Health System Viewer, and Workload Performance Advisor).
All of these innovations make the HP ProLiant DL380 Gen10 servers universal equipment for IT environments of companies and large and medium-sized businesses.
What's New in the HP ProLiant DL380 Gen10
The implemented technological improvements make it possible for the presented line of servers:
More flexible deployment as ultra-high-density memory or fast storage up to 4.5 TB per slot with HP DC Persistent Memory;
Availability of cloud-based analytics provided by HP InfoSight technology to predict and prevent problems that negatively affect the IT system and ultimately the business;
Enhanced customization options with support for new chassis modular bay configurations;
the ability to dynamically check the software every 24 hours, which increases the reliability of the firmware with a critical significance;
a secure recovery functionality that returns the firmware to its original or factory settings in the event of a code breach;
protection of the server from unauthorized access (using the Trusted Platform Module) and from opening the casing (using the Intrusion Detection system).
High server fault tolerance is provided by the ASIC and Secure Start tools included in iLO 5, as well as the HPE Silicon Root of Trust fingerprinting and Secure Recovery iLO firmware verification systems.
What is the purpose of this server?
Having higher performance and fault tolerance, the HP ProLiant DL380 Gen10 server is actively used as a platform for creating databases and analytics systems with large workloads in data centers, for cloud environments and virtualization for a significant number of workplaces, for organizing terminal access, installing 1C- applications, hosting and web development. Also, since this server has a wide variety of configurations, it can be easily adapted to solve any other tasks.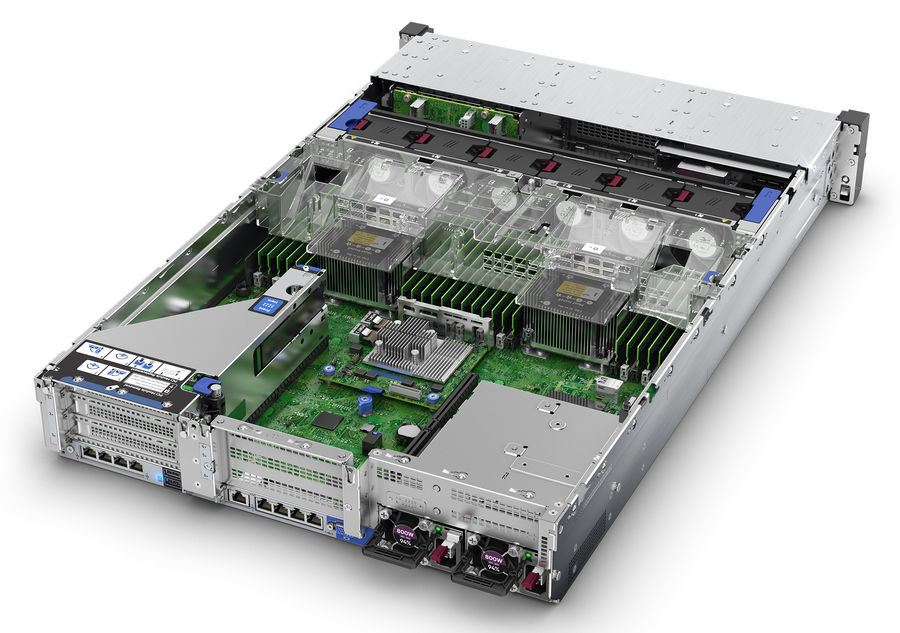 The memory, fault tolerance and performance of this equipment fully meet all the requirements of corporate and mid-level IT systems.
Specifications
The main technical characteristics of HP ProLiant DL380 Gen10 are presented in the table.
| | |
| --- | --- |
| Processor Type and Family | Intel Xeon Scalable Bronze, Silver, Gold, and Platinum |
| Number of processors | 1 or 2 |
| Number of processor cores | from 4 to 28, depending on the model |
| Processor cache | 8.25MB - 38.5MB L3, depending on model |
| Base processor speed | 3.8 GHz (maximum), depending on model |
| Memory type | HPE DDR4 SmartMemory and HPE Persistent Memory |
| Maximum Memory | 3TB with DDR4 128GB and 6TB with HPE Persistent Memory 2666 512GB Pack |
| Memory slots | 24 DIMM slots |
| Drive type supported | 8 or 12 SAS/SATA/LFF SSDs; 8, 10, 16, 18, or 24 SAS/SATA/SFF SSDs; 2x M.2 SATA SSD (standard) in main riser, depending on configuration; 6 additional SFF drives or 3 LFFs in the rear bay and 2 additional SFF drives or 2 Dual UFF drives in the rear bay; 20 additional NVMe SFF drives; NVMe support via Express Bay with maximum storage limit |
| Infrastructure management | HP iLO standard with Intelligent Provisioning (embedded), HP OneView Standard (requires download) (standard), HP iLO Advanced, and HP OneView Advanced (optional license) |
| Expansion slots | 8 PCIe 3.0 |
| Type of NICs | HP 331i 1 Gb/s Ethernet Adapter 4 ports per controller and/or optional HP FlexibleLOM adapter (depending on model) |
| Storage controllers | 1 HP Smart Array S100i Controller and/or 1 HP Smart Array P408i-a Controller and/or 1 HP Smart Array P816i-a Controller and/or 1 HP Smart Array E208i-a Controller, depending on model |
| Form factor | 2U |
The DL380 Gen10 server has two Flexible Slot power supplies and redundant hot-swappable fans as standard.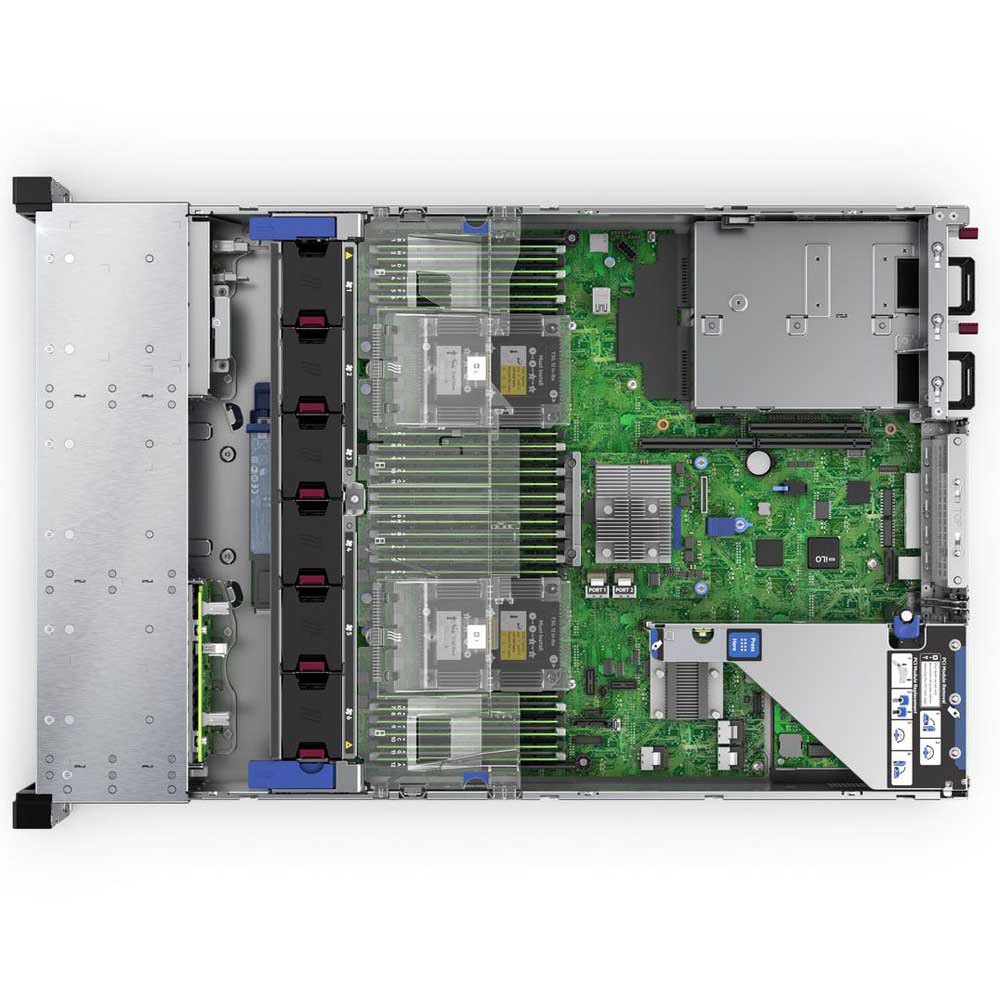 With a combination of updated HP Flexible Smart Array controllers and embedded system boot, data, and media controllers, you can optimize your 12 Gb/s SAS solution for your specific environment in both SAS and HBA modes. Also, the presented server has good scalability for changing business requirements, since it allows you to create structures with different bandwidth bands (from 1GbE to 40GbE), choosing one or another adapter.
An extended list of operating systems is compatible with the presented server, which includes, in addition to the standard ones, such operating systems as Azure, Docker and ClearOS.
In conclusion
The HP ProLiant DL380 Gen10 server configuration is typically based on system processing power and maximum storage capacity. Also, if a data center is being designed on the database of servers, you should pay attention to how the disk baskets are located in the equipment.
Therefore, if you want to buy the server configuration you need for solving certain tasks, please contact the specialists of our company - we will select any HP ProLiant DL380 Gen10 server from those presented on our website, affordable and of high quality.