The HPE ProLiant DL360 Gen9 is a 1U server with one or two Intel Xeon E5-2600 v3/v4 processors, featuring high density, increased performance, low power consumption and extended uptime.
This model is perfect for conditions where the space occupied in the server cabinet is a critical factor, but should not become a performance limit.

Front view, HPE DL360 Gen9 with 8 drives.
Specifications
The technical specifications of the HPE ProLiant DL360 Gen9 server are presented in the form of a table:
| | |
| --- | --- |
| Processor family | Intel® Xeon® processor E5-2600 v3/v4 family |
| Number of processors | 1 or 2 |
| Number of processor cores | 22, 20, 18, 16, 14, 12, 10, 8, 6, or 4 |
| Processor cache | 10-55 MB L3 |
| Processor speed | Up to 2400 MHz |
| Form factor | 1U |
| Chassis Form Factor | Rack |
| Power Supply | up to 2 x 1400W Flex Slots |
| Expansion slots | 3 (max) |
| Maximum memory | 3,0 TB |
| Memory slots | 24 DIMM slots |
| Memory type | DDR4 SmartMemory |
| Drive Description | Up to 4 LFF SAS/SATA/SSD (3.5") or up to 10 SAS/SATA/SFF (2.5") SSD Up to 6 SFF NVMe drives (optional) NVMe support via Express Bay will limit the maximum storage capacity |
| System Fan | Features Hot Swap, Redundant, Standard (500-1400 W) |
| Network controller | 331i 1 Gb/s Ethernet adapter, 4 ports per controller and/or optional FlexibleLOM adapter (depending on model) |
| Storage controller | 1 HPE Dynamic Smart Array B140i Controller or 1 HPE H240ar HBA or 1 Smart Array P440ar Controller (depending on model) |
| Infrastructure management | Standard: HPE iLO Management with Intelligent Provisioning, optional: HPE iLO Advanced and HPE Insight Control |
HPE ProLiant DL360 Gen9 might be equipped with two graphic accelerators (up to two active cards single-wide with length up to 9,5 inch and up to 150W each), accelerators of PCI-e I/O disk's; storage infrastructure adapters with interface 8, 16 Gbps.

Rear view, HPE DL360 Gen9.
HP Insight Control software includes automated server deployment and migration tools, and supports virtual machine management integration with:
Microsoft Windows Server: 2008 R2 (only x64), 2012, 2012 R2, 2019, 2022;
Red Hat Enterprise Linux 6.5 or later;
SUSE Linux Enterprise Server 11 SP3 or later;
Ubuntu Server 14.04 or later;
VMware vSphere 5.1 U2 or later;
Citrix XenServer;
Solaris 11.1 or later.
HP Insight Control is accessed through Systems Insight Manager (HP SIM) through a network GUI. HP Insight Control runs on a Windows-based Central Management Server (CMS) and can manage Linux and Windows network nodes. Remote management features include graphical remote access (Virtual KVM), team collaboration, server boot and error footage, video reporting and on-demand playback, and virtual environment remote access.
The HPE iLO gen 4 (Integrated Lights-Out) hardware controller and UEFI, RESTful API tools allows remote maintenance (from firmware and monitoring to energy optimization and operating system deployment) of the HPE ProLiant DL360 Gen9 server.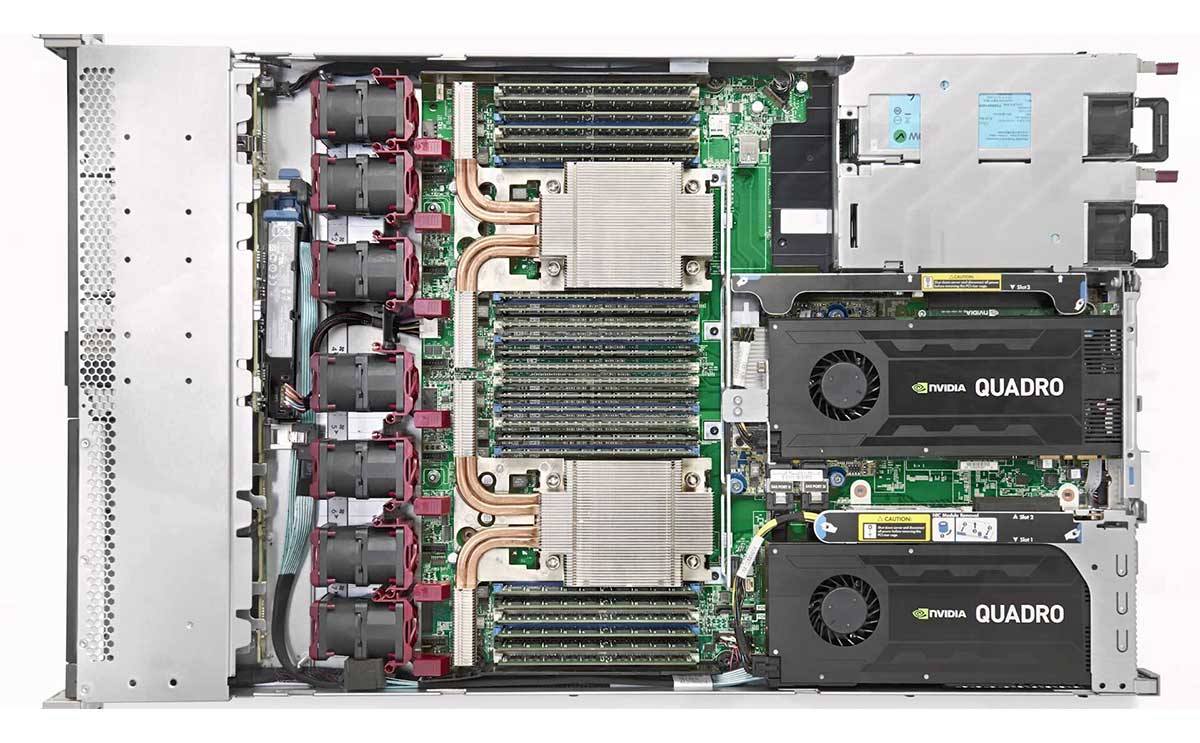 Inside, HPE DL360 Gen9.
Advantages
HPE ProLiant DL360 Gen9 benefits include:
dual-port 10GbE network capability to provide high-speed network connectivity for high-performance storage arrays;
a wide range of HP ecosystem tools for internal and external management;
improved storage options, including support for SAS3 SSDs.
Who can benefit from this server?
The HPE ProLiant DL360 Gen9 is, due to its capabilities, the optimal solution for virtualization systems, consolidation, high-performance applications, as well as for organizing parallel computing and data processing clusters.
It guarantees effective and almost continuous protection of information, allows you to correctly distribute all the resources of the enterprise, has flexible capabilities, which allows you to use it according to individual needs.
Versatility, scalability, a large selection of operational scenarios and modifications make this server successful not only in data centers, but also in mid-level companies and remote offices.
In Conclusion
Developed in 2015, the HP ProLiant DL360 Gen9 platform is still relevant and in demand today because it can serve as a useful component in a converged enterprise or data center architecture, and also offers storage density and processing power as a flexible and efficient addition to many environments.
This server provides functionality that solves the problems of the vast majority of the market - support for the Intel chipset, DDR4 DRAM, 10GbE and SAS3, connection with 2.5-inch solid-state or 3.5-inch drives (depending on work preferences), high performance internal storage and the ability to handle high I/O with minimal latency and fewer cables.
You can buy the HP Proliant DL360 server at our online store. Our experts will help you choose the necessary configuration of this platform, taking into account the needs of your business.