HPE ProLiant DL160 Gen10 is a multifunctional platform that can be used for local deployment as well as for building a hybrid cloud infrastructure. The purpose of this platform depends on the configuration, which has a wide range of settings. This server supports Intel Xeon Scalable processors of the 1st and 2nd generations (from Bronze to Platinum, with TDP up to 150 W). The system is capable of working with one or two processor CPUs.

8 slots for RAM (L)RDIMM DDR4-2400/2666/2933 ECC are located on each socket. 1 TB of RAM can be obtained by installing 64 GB modules in all 16 slots. processors have 6 channels, with 8 slots – this means that two channels on each processor will be set to 2DPC at maximum capacity. Therefore, memory speed will depend on the model and number of CPU modules.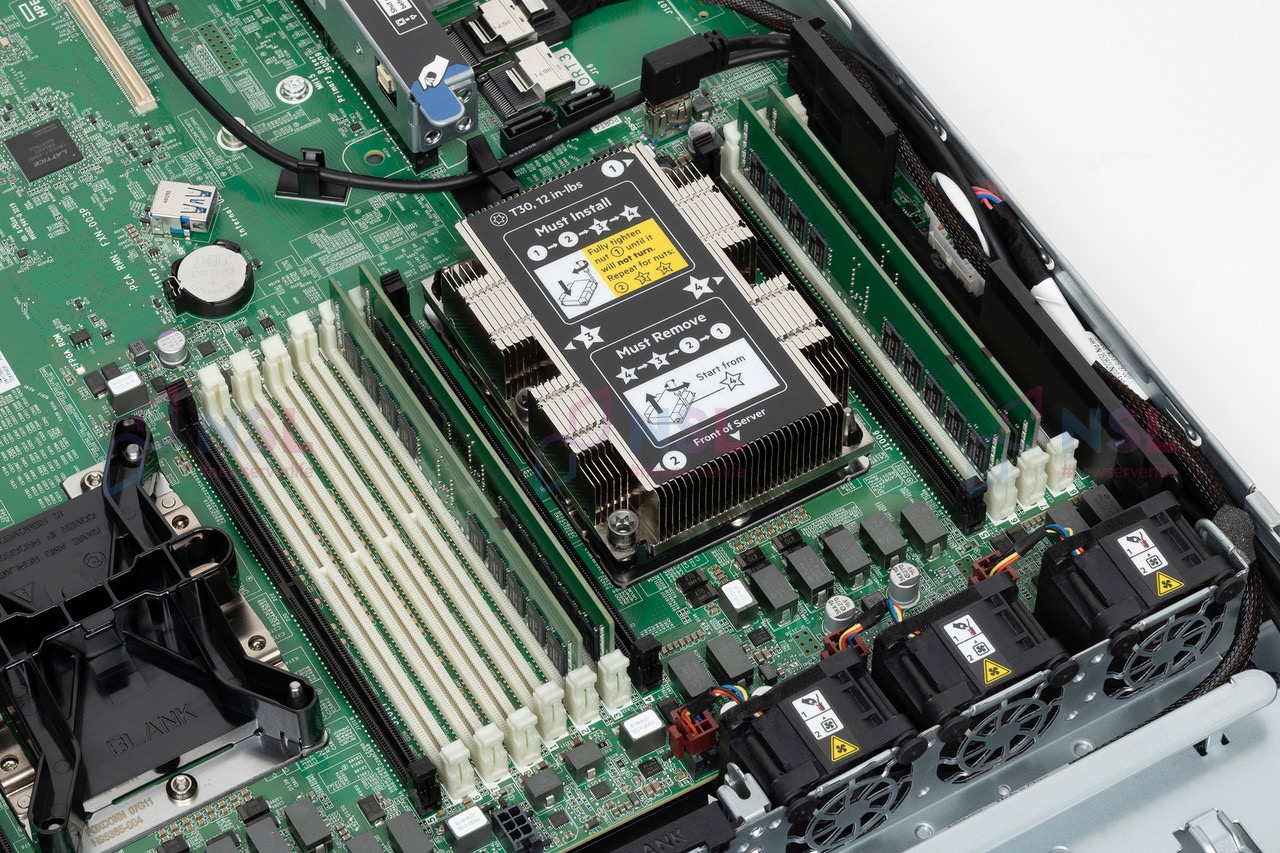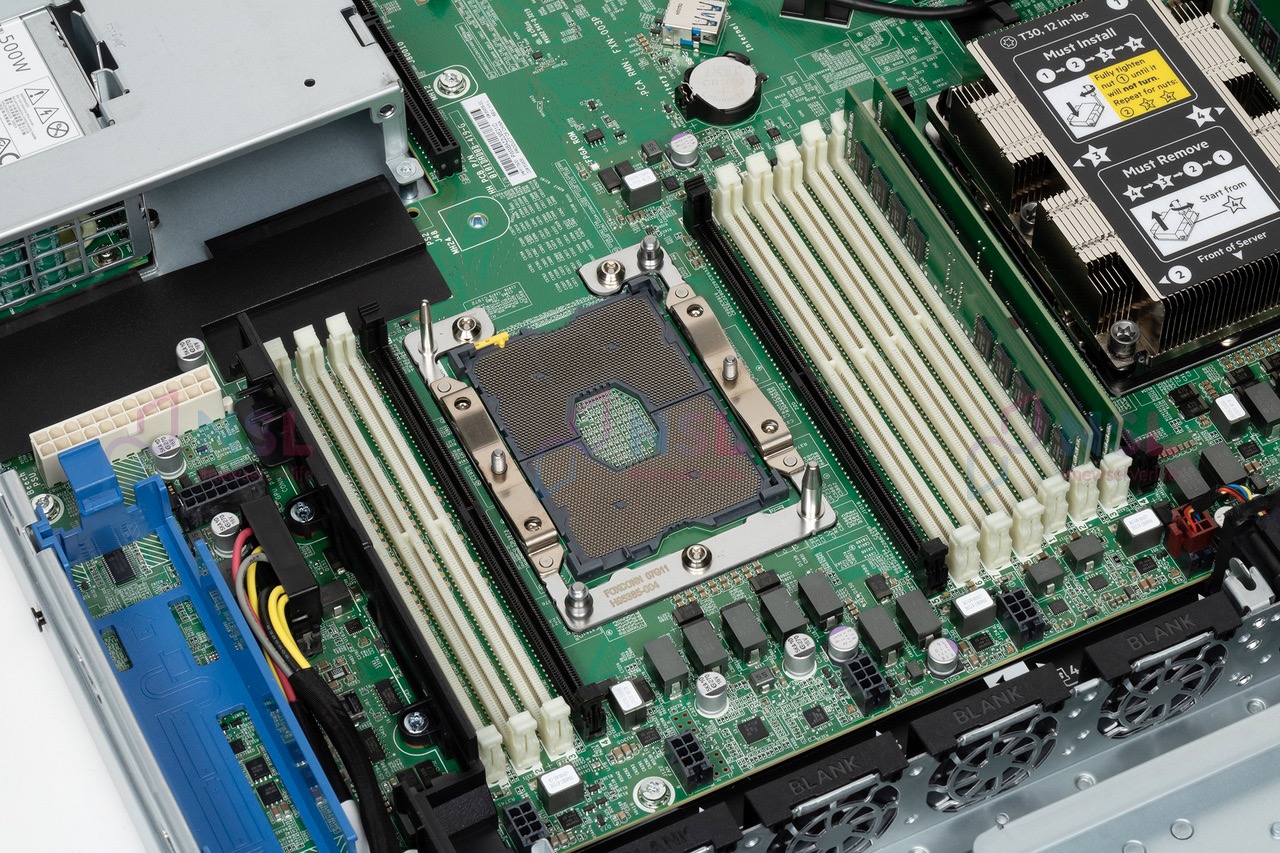 The number of available PCIe slots depends on the number of CPUs used by the server. Two PCIe 3.0 slots which can be configured in two different ways are available for a single processor server. You can use:
A riser that provides two x8 slots - for a FlexibleLOM adapter + any other low-profile expansion card.
A riser that offers one x16 slot for FHHL cards and one x8 slot for low-profile adapters (standard option).
The third x16 slot can be used if there is a second processor (for low profile adapter).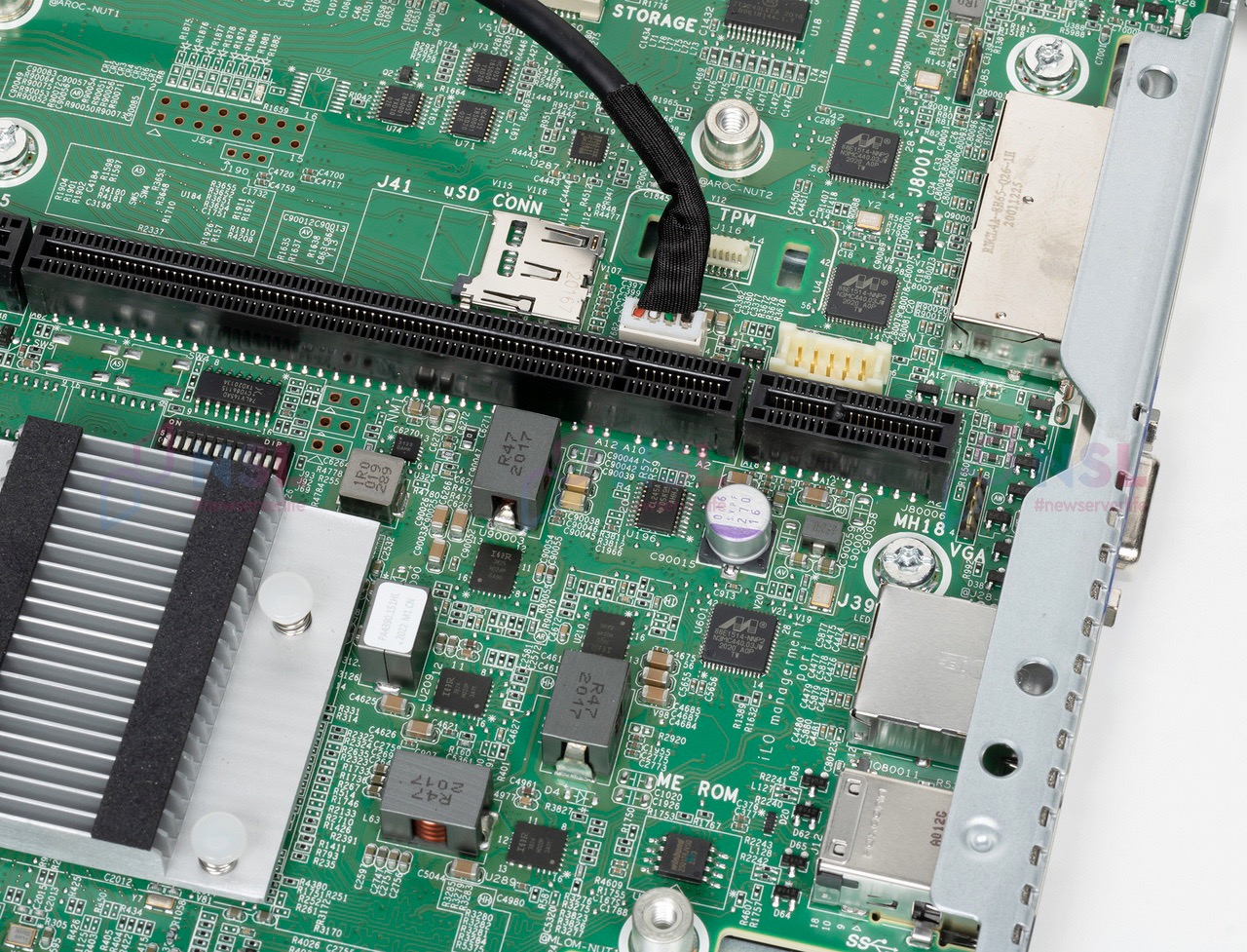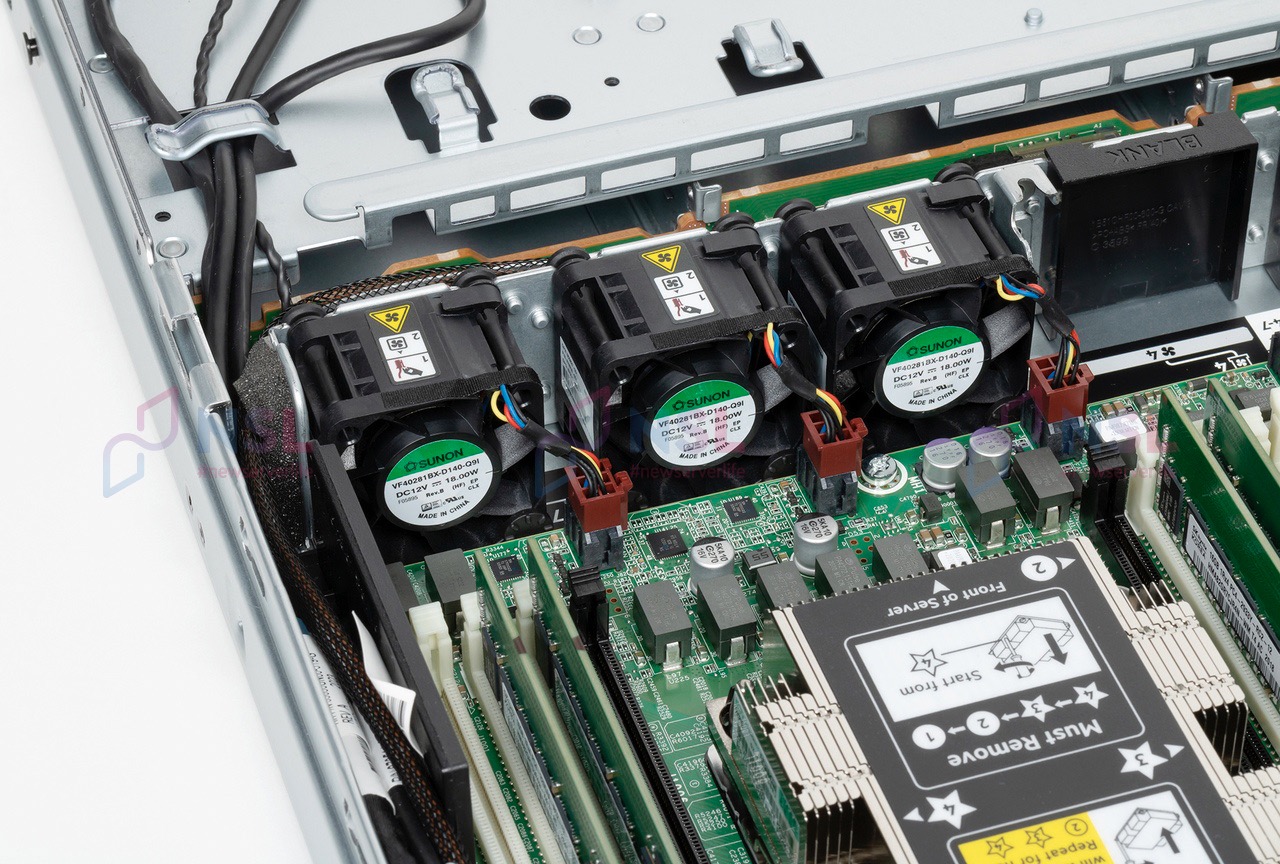 The server size is quite compact (1U chassis 61.5 cm deep). However, the server provides extensive configuration functions.
USB 3.0 ports, a dedicated 1GbE port for iLO, two 1GbE RJ-45 ports, and a VGA video output are located on the back panel of the server. A separate media module for two 1/10GbE ports that does not occupy a PCIe slot can be installed additionally, even if there are few standard network capabilities.


Next, let's consider the RAID option. In addition to the Smart Array S100i SR software controller, which is included in the standard version, the board provides access to a separate slot for other Smart Array options as well as a bay for BBU. There are also:
MicroSD card reader.
Internal USB 3.0 port.
Pair of SATA-3 ports for an optional PCIe adapter for two M.2 SSDs.
Three Mini-SAS ports for connecting a disk cage.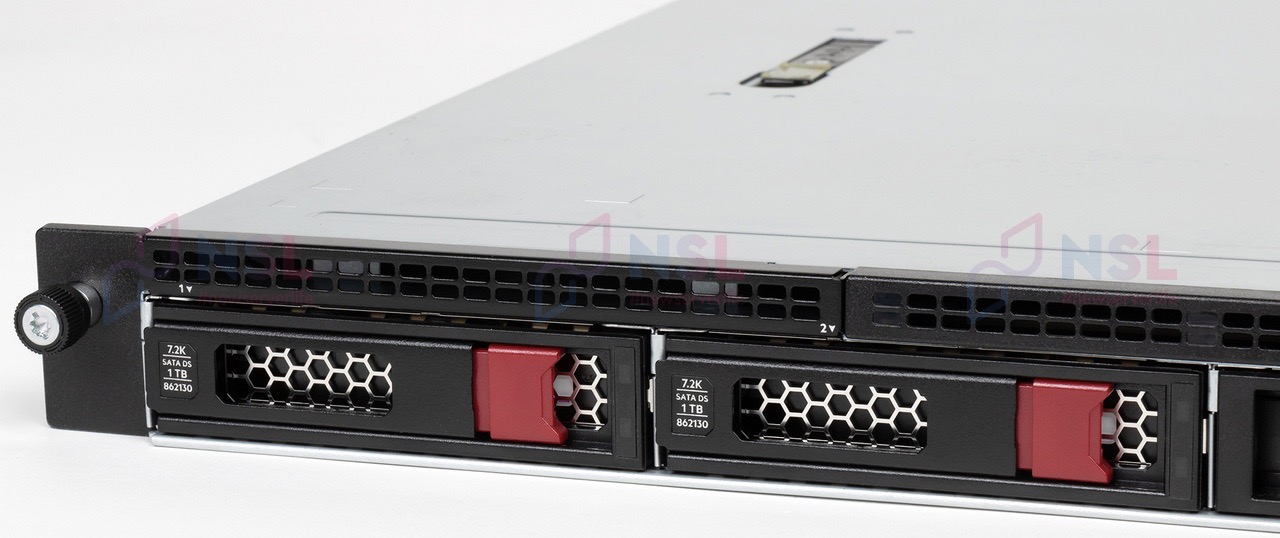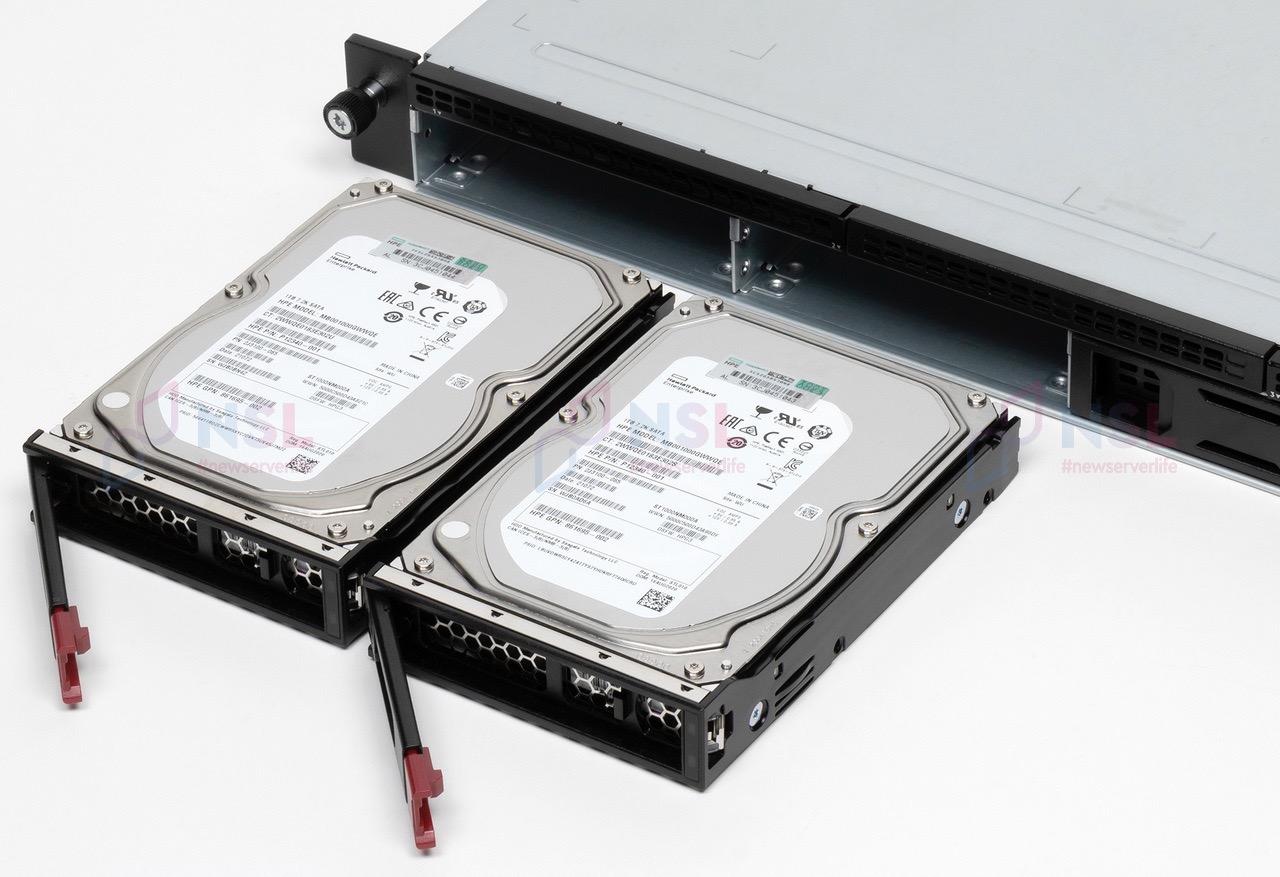 There are two disk cage options that support hot-swappable drives:
8 SFF (2.5"), with an optical drive, in place of which you can put another block for a pair of SFFs (this gives an ability to get up to 10 drives in 1U).
4 LFF (3.5"), with optional DVD drive.
Various SAS-3/SATA-3 drives (SSD, HDD), which are designed for different types of load are offered by HPE. The indicator of total capacity of the disk cage can be up to 76.8 TB.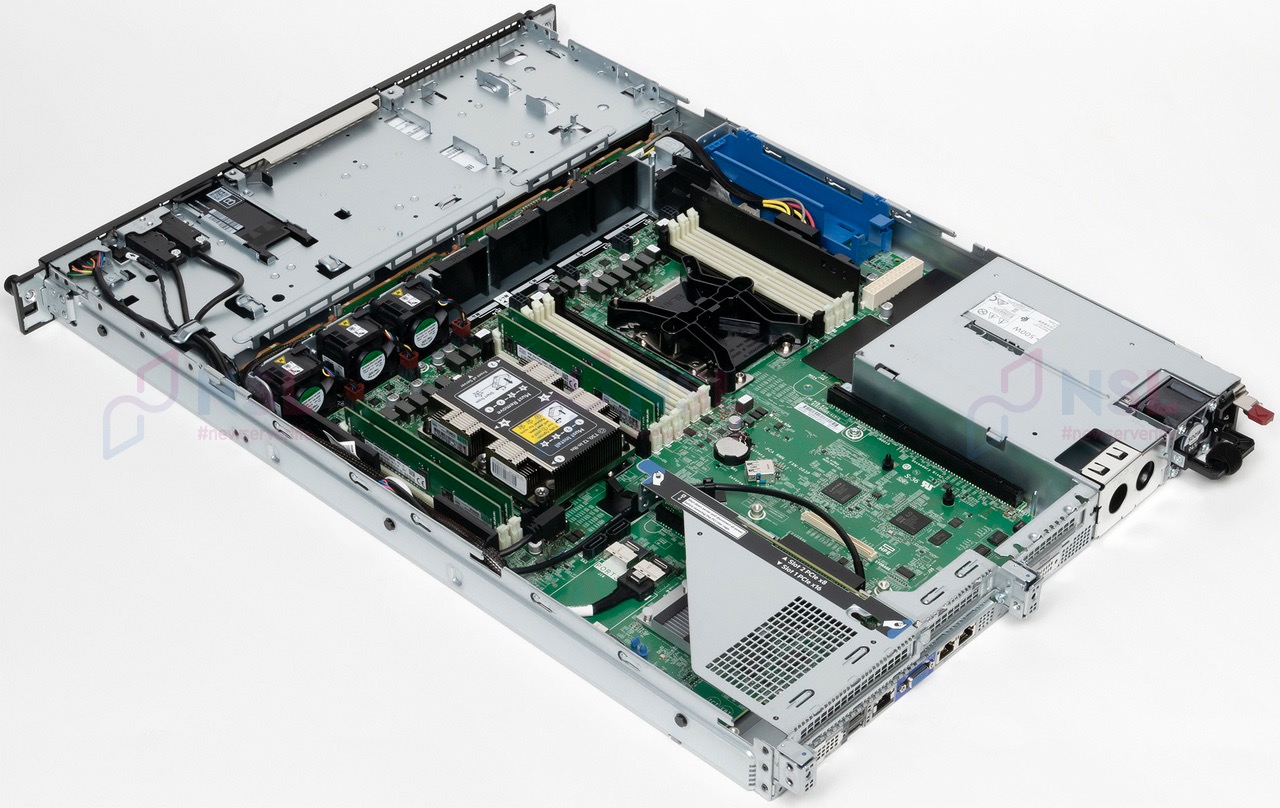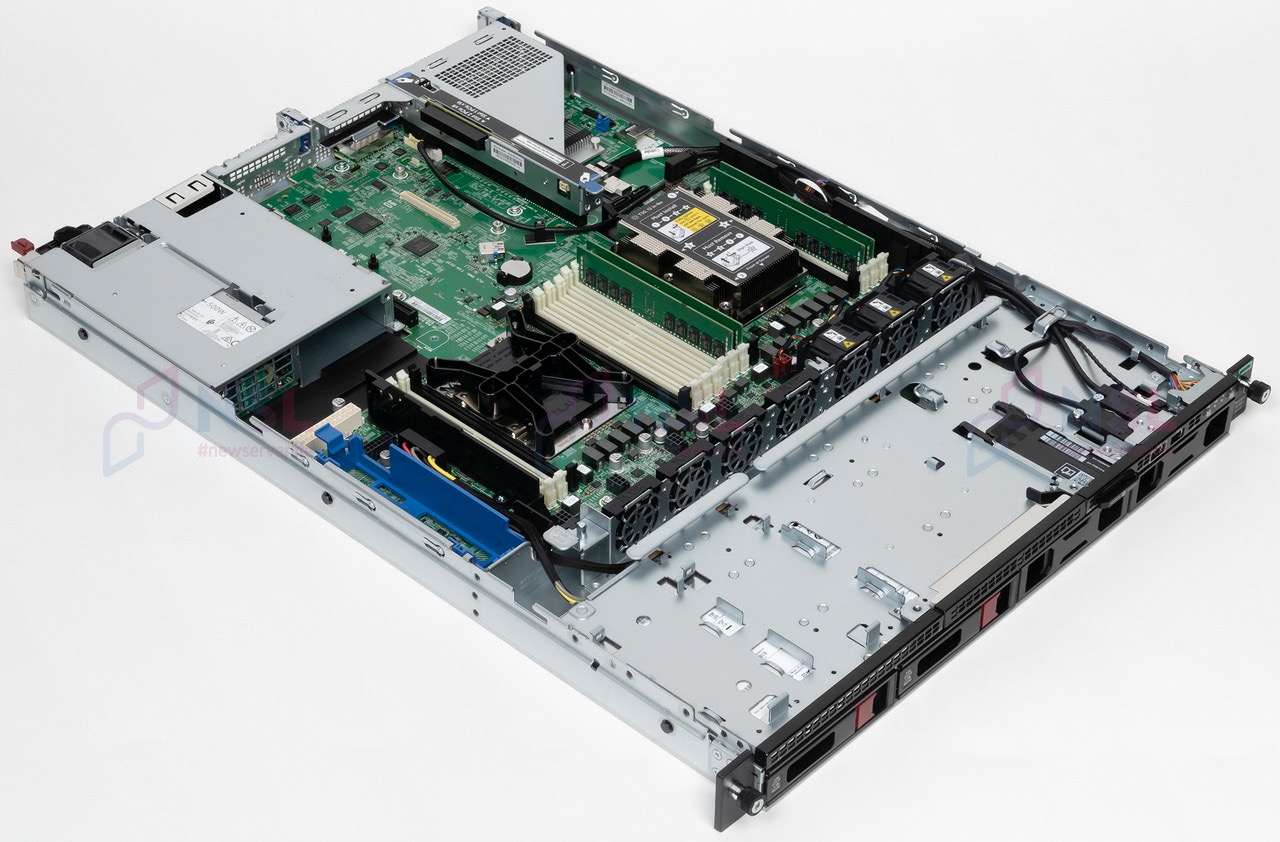 High-speed (up to 27 thousand RPM) quick-release fans 40 × 28 mm perform the function of server cooling. If 1 processor is installed, there are 3 fans. If 2 processors are installed, there are six fans. It is also possible to install another spare fan. The power sources of such a system are 1 or 2 power supply units of 80+ Platinum class or Titanium class (both with hot-swappable support, power 500 or 800 W). A power supply with support for 48 V DC input is also available. PSUs include status indicators and individual fans.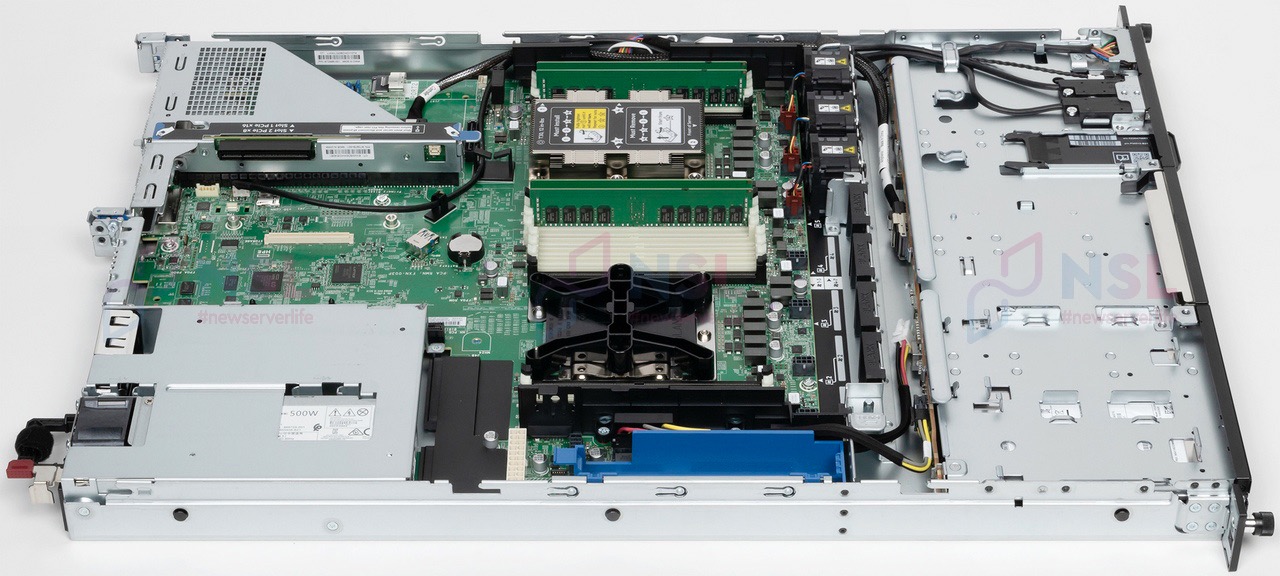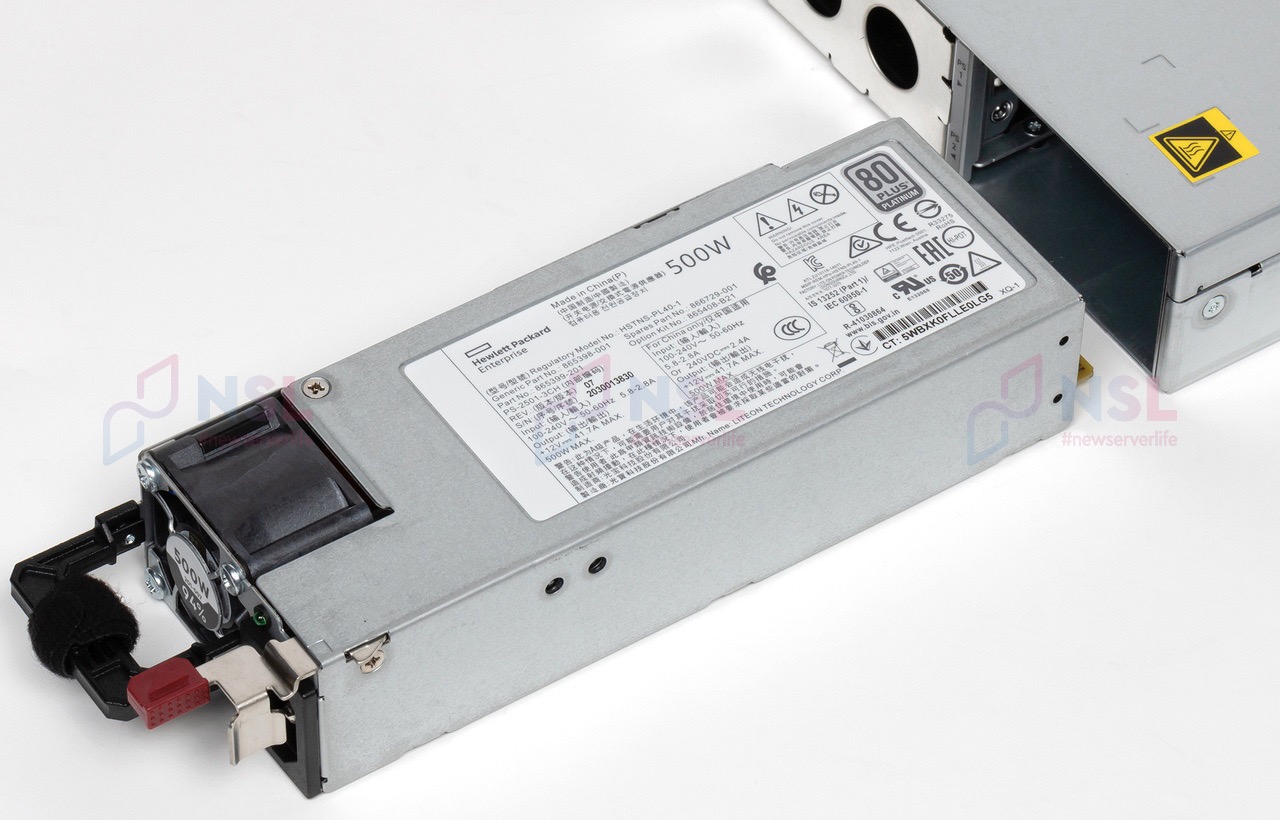 Front panel includes:
block with necessary indicators and buttons,
USB 3.0 port,
USB port for iLO,
a section with information about the serial number and model of the server.
Metal rails designed for racks with a depth of 60 to 90 cm and allowing it to be completely extended are delivered along with the server. It should also be noted next platform features:
Using Intel C622 series chipset. It is responsible for practically accessible ports.
TPM module support.
Input and output sensor (can be installed on the back of the serial port).
For reliable operation of the server, there are additional screw fasteners. Power supplies have their own handles and latches. Unused space is closed with quick-release plugs. Drives are supplied already installed in trays. The lid is secured with a plastic latch (on the inside lid you can find a diagram and necessary instructions).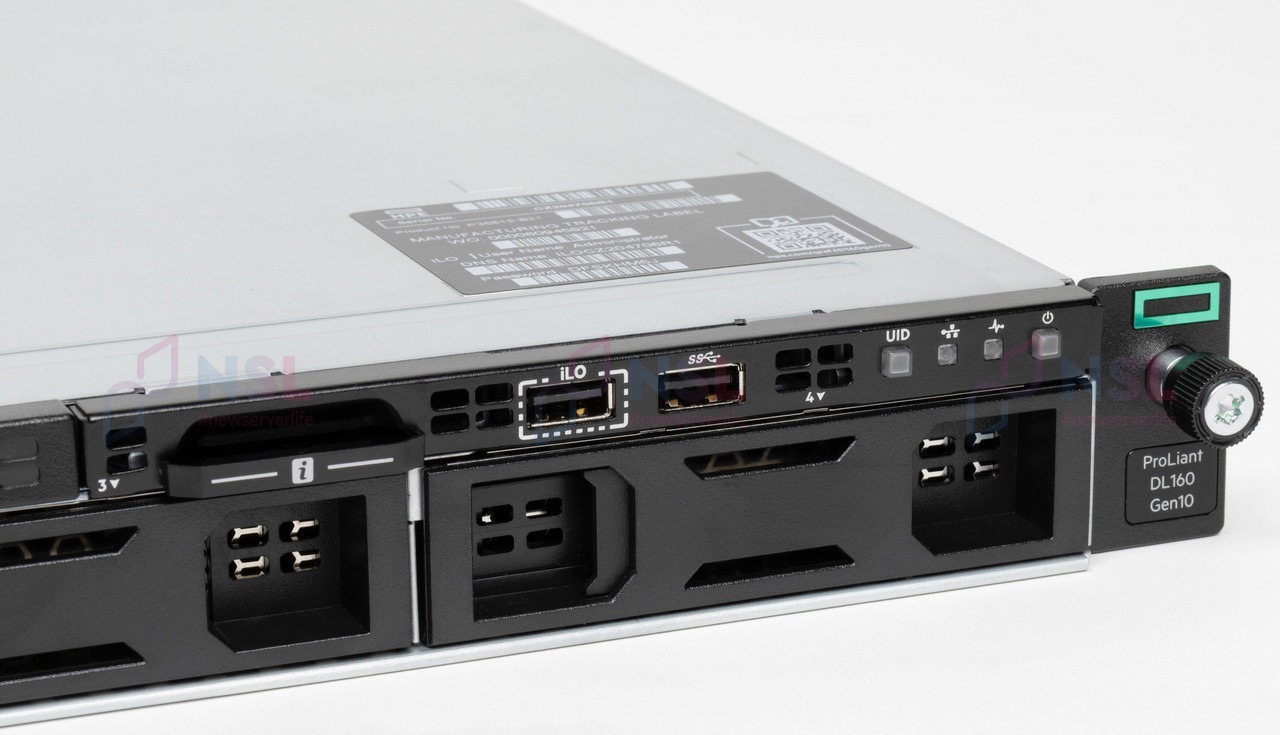 HPE ProLiant DL160 Gen10 Specifications
Characteristic
Description
CPU
Intel Xeon Scalable Skylake-SP/Cascade Lake-SP;
4-26 kernels;
TDP up to 150 W.
Size
(width × length × height)
1U;
4.29 x 43.46 x 61.49 cm
Weight
from 10.97 kg
Cooling
7 × single-rotor fan (27,000 RPM);
up to 34 dBA
Memory
HPE Smart Memory;
16×DIMM;
up to 1 TB;
up to DDR4-2933 (L)RDIMM ECC
Control
iLO 5
RAID controller
Smart Array S100i SR
Drives

SAS/SATA;
4 × LFF or 8 × SFF;
3 × Mini-SAS;
microSD slot;
1 × USB 3.0;
2 × SATA

Optional:
DVD drive;
2 × SFF; BBU

Interfaces
Flexible Smart Array;
PCIe 3.0: x16 (FHHL)/x8 (FlexibleLOM), x8 (LP), x16 (LP);
TPM 2.0
Power supply
2 × HPE Flexible Slot;
500/800 W;
up to 80+ Titanium
Indicators
Status, power, network, 2 × UID
Ports
2 × 1GbE RJ-45;
1 × 1GbE RJ-45 iLO;
3 × USB 3.0;
optional DB-9;
Media Bay
Hardware buttons
Power supply, UID
Working conditions
+10…+35 °C;
relative humidity 8-90%;
height up to 3050 m
Warranty
3 years (including components, repair work and on-site service)
iLO 5 and embedded utilities
Any HPE server is distinguished by a security, management, and monitoring system for the iLO server (we are considering the fifth generation). It includes features of iKVM, hardware RoT, BMC, etc. iLO provides 2 options for integration with third party systems:
web interface,
RESTful API.
SSH access is also provided by iLO.
To work with iLO, the server uses an Ethernet port.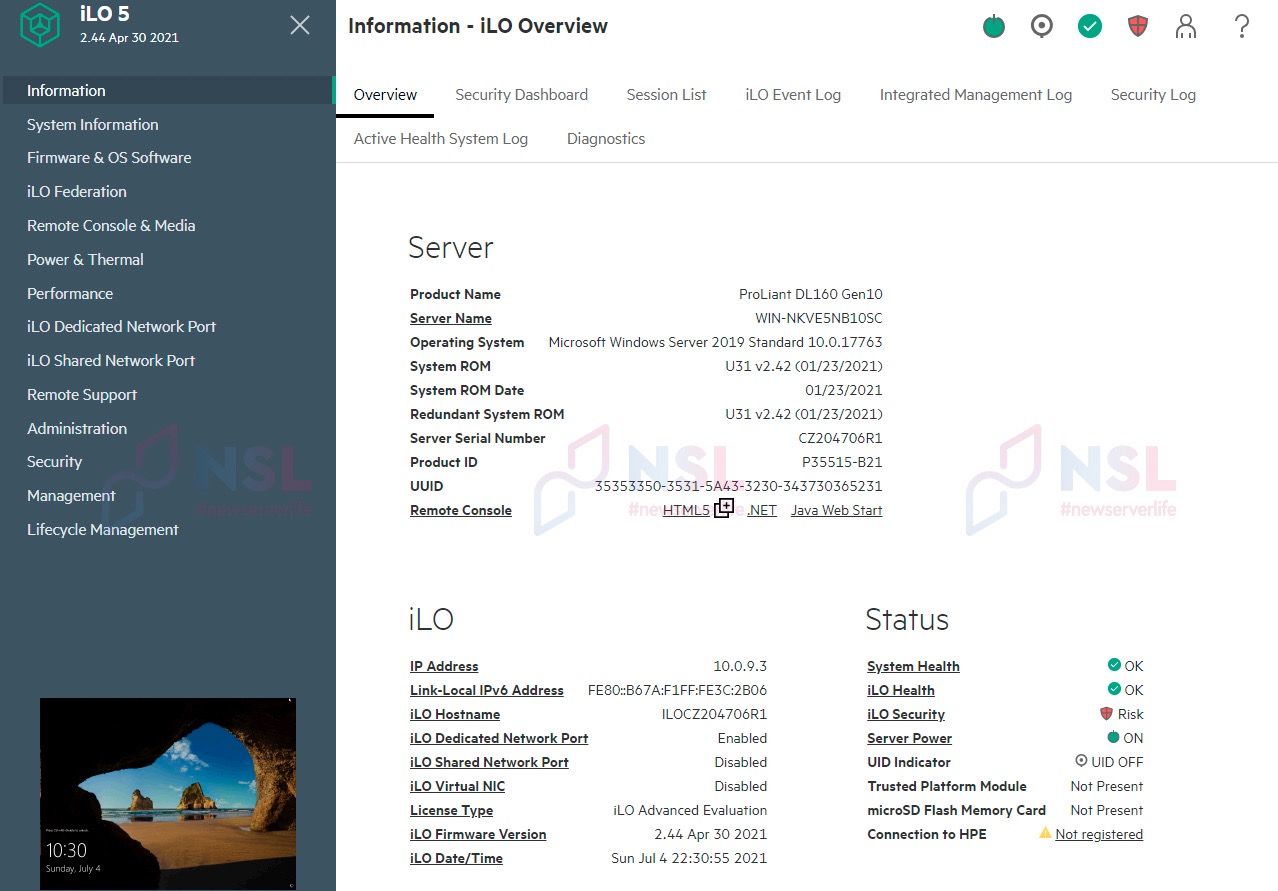 Next, let's consider two iLO license options:
Standard (already included).
Advanced (extra at additional cost).
The differences between the licenses are described in this document. Many of the features available only in the Advanced version may not be very necessary in the SMB segment or when using a single server: integration with Active Directory, support for Kerberos and two-factor authentication, iLO Federation (for managing a large fleet of equipment), Workload Advisor (monitoring and profiling settings for specific workloads), power consumption tuning, and so on.
However, there are a few features that still make it worthwhile to purchase the Advanced version (especially considering that the cost of the hardware itself is not very high), after testing it for two months with a temporary key. Firstly, in the Standard version, the iKVM console (HTML-5 directly in the browser or Java and .NET applets) only works until the OS is loaded and does not support remote mounting of ISO and IMG images (floppies).

Secondly, only the Advanced version allows sending notifications to an email and syslog server. Thirdly, advanced performance monitoring is also only available with an Advanced license, as well as server configuration locking features, and an automatic firmware integrity check and recovery from a backup copy in case the check fails. However, the Standard version also offers a multitude of system maintenance capabilities.

Built-in utilities are provided through advanced server self-diagnostic tools and log management, the Smart Storage Administrator RAID controller manager, and a set of Intelligent Provisioning (IP) tools, which we previously introduced using the example of the ProLiant MicroServer Gen10 Plus. IP includes maintenance tools and offers manufacturer-recommended settings, as well as an installation wizard for Windows Server, VMware ESXi, or ClearOS in both a simplified (Rapid Setup) and detailed configuration. Unfortunately, it still hasn't learned to work correctly with the Microsoft system ISO image from their website.
Testing
HPE provides several basic configurations. Let's consider option P35515-B21:
basket for 4 LFF drives,
one Intel Xeon Silver 4210R (10C/20T, 2.4-3.2 GHz, 13.75 MB L3 cache, 100 W TDP; P21191-B21),
one HPE Flex Slot Platinum 500 W PSU,
one peer-to-peer 16 GB HPE Smart Memory DDR4-2933 memory module.
This configuration was also supplemented with two 3.5" hard drives with a capacity of 1 TB (SATA-3, 7200RPM; 861686-B21) and three 16 GB DDR4-2933 memory modules (P00920-B21).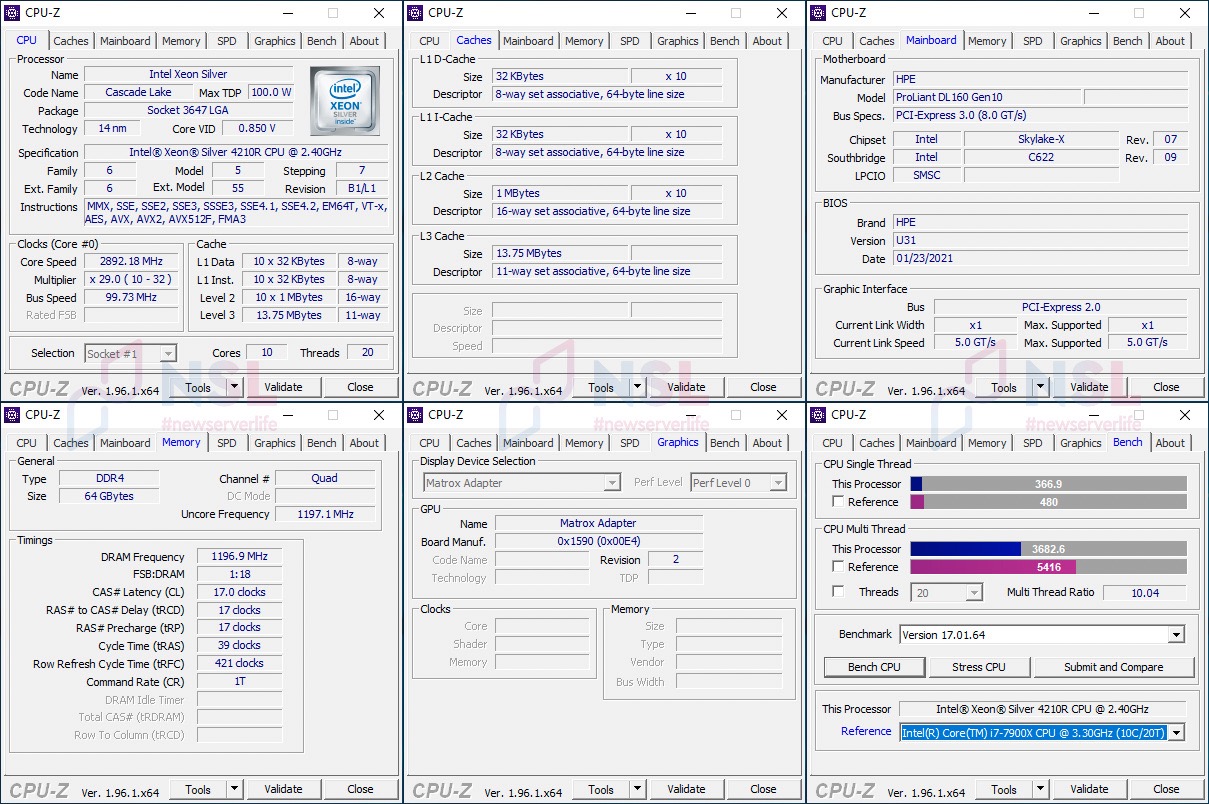 Tool numbers are indicated in parentheses in the HPE catalog. Most of the components are created by other companies. However, you should remember that an identical, but not relabeled HPE component may differ in firmware and some characteristics.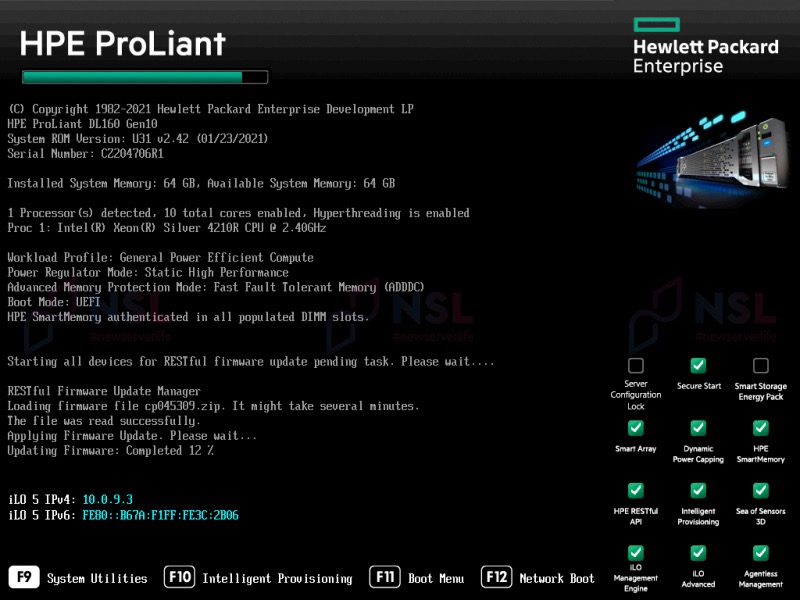 Static High Performance Mode was selected in the server BIOS/UEFI settings. For cooling, the Maximum Cooling profile was installed. The reason for this is that in iLO the CPU temperature sensor displays a value that is different from what is measured by third party utilities (although the fan rotation speed depends on this). In other words, the processor may be throttling. A mode in which the fan speed is always maximum is the most convenient option.
Using the embedded Smart Array S100i SR controller, drives were combined into a RAID-1 array. Microsoft Windows Server 2019 Standard OS (64-bit, build 17763) with all available updates was installed on the finished volume. The firmware of all components also went through a similar process. Firmware and drivers for all other equipment can be easily found on the manufacturer's website.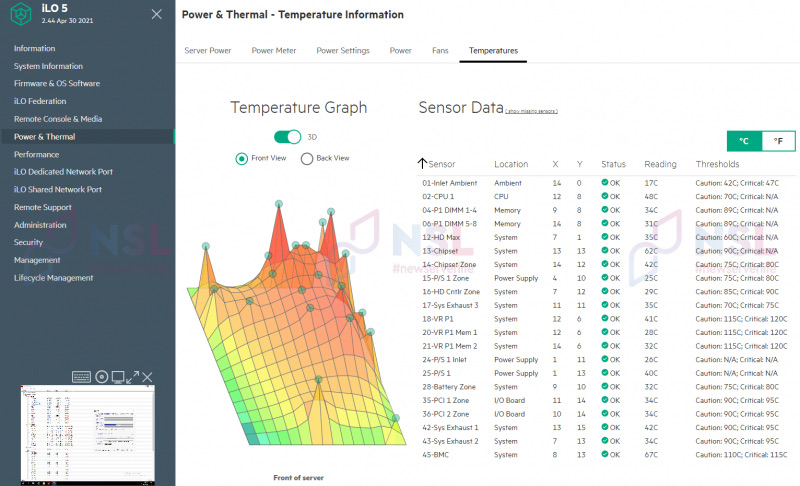 Below are the results of general performance tests for this configuration, which is a rough estimate of its capabilities. In practice, the server is used for specific work tasks.

In Geekbench 5, the system scored 7374 points in multi-threaded workloads and 851 points in single-threaded ones. In PCMark 10 Express tests with default settings, it achieved a score of 3301 points, and with OpenCL disabled, it scored 3369 points. In the comprehensive SPECworkstation 3.1.0 benchmark, the processor achieved a rating of 1.74 when using all 20 available threads, while the storage subsystem scored only 0.1. In the PCMark 10 Data Drive benchmark, the array scored 240 points, and in the System Drive scenario, it scored 142 points. The DPC latency fluctuated around 1000 microseconds. Overall, all the results are as expected. The only caveat is that, in our opinion, it would be better to invest in a more advanced hardware RAID controller and use an SSD for the operating system.
Conclusion
Thus, the HPE ProLiant DL160 Gen10 is a convenient, proven, secure and balanced platform, which is also universal. Its main purpose is the SMB segment, the requirements of which it copes well with.
The cost of this platform is quite impressive because of the tested configuration, which includes additional memory and branded drives.