HPE Apollo 2000 Gen10 Server Platform is an enterprise-class 2U chassis. Due to the increased installation density, the presence of a single infrastructure, a power, the cooling resources and the possibility of hot swapping and independent maintenance, current platform has proven itself as the equipment with high requirements for scalability, computing density, and adaptability to the various ever-increasing loads.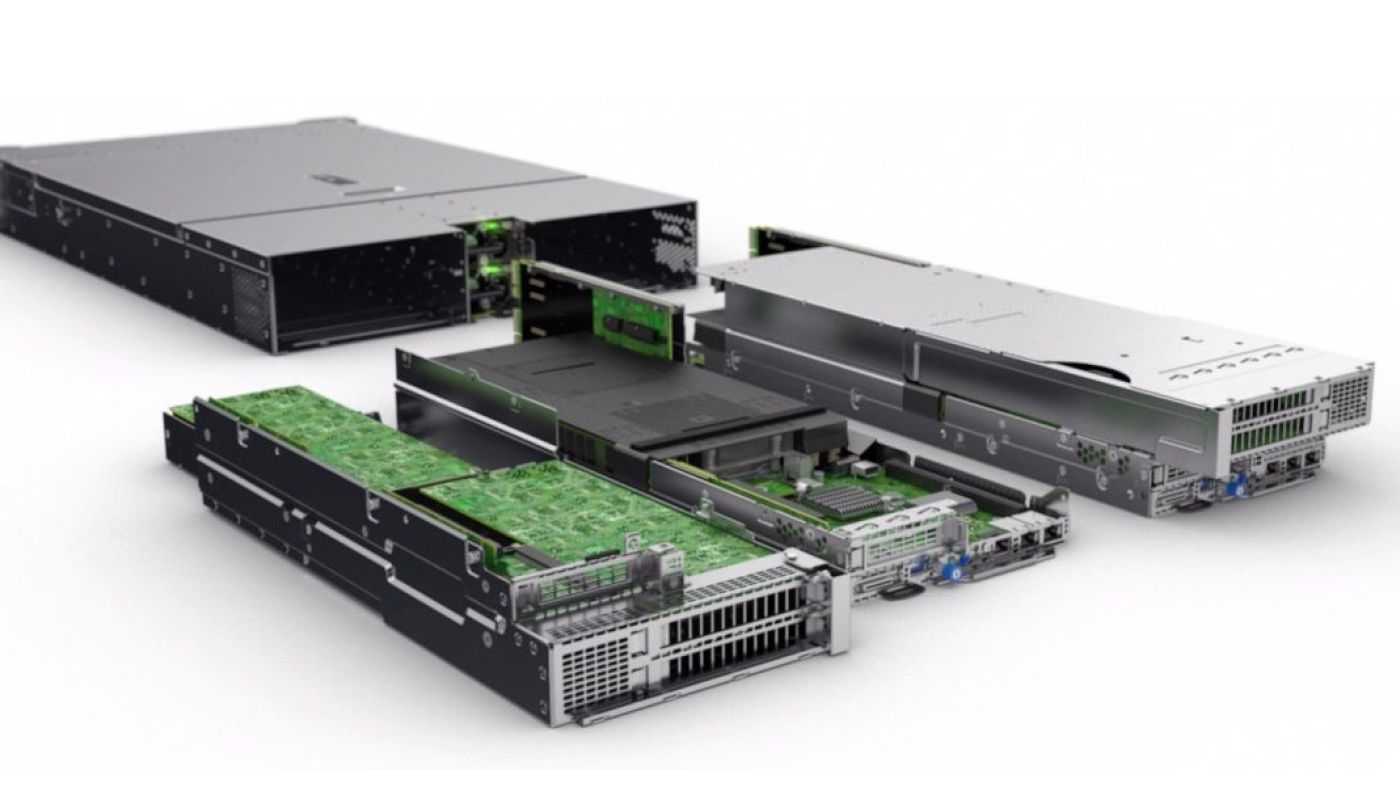 HPE APOLLO 2000 GEN10
HPE APOLLO GEN10 review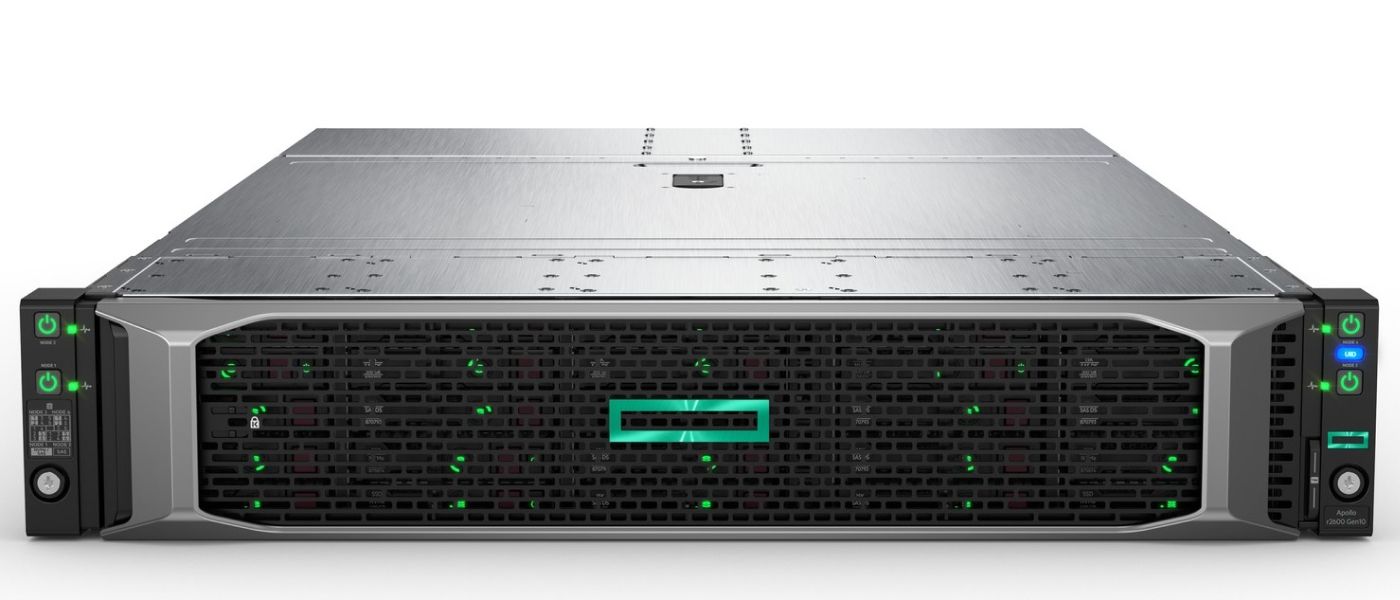 HPE APOLLO 2000 GEN10 front panel
HPE Apollo 2000 Gen10 System, for all its high density, is designed to be a powerful computing platform. The introduction of the new technological solutions in current server system allowed:
ensure the operation of a server in 2U chassis allowing it to be placed compactly in a standard server rack. Thereby more rationally use the data center space and get the computing density twice compared to traditional 1U rack servers;
avoid the changing infrastructure or the data center operations by using standard racks, cabling, and the operating conditions;
improving a system performance with the ability to mix and match the different configurations of HPE ProLiant XL170r Gen10 and HPE ProLiant XL190r Gen10 servers in the same chassis;
support up to 12 LFF disks or up to 24 SFF disks distributed evenly between the server nodes with the possibility of "hot swapping". The system works with both hard drives and NVMe drives;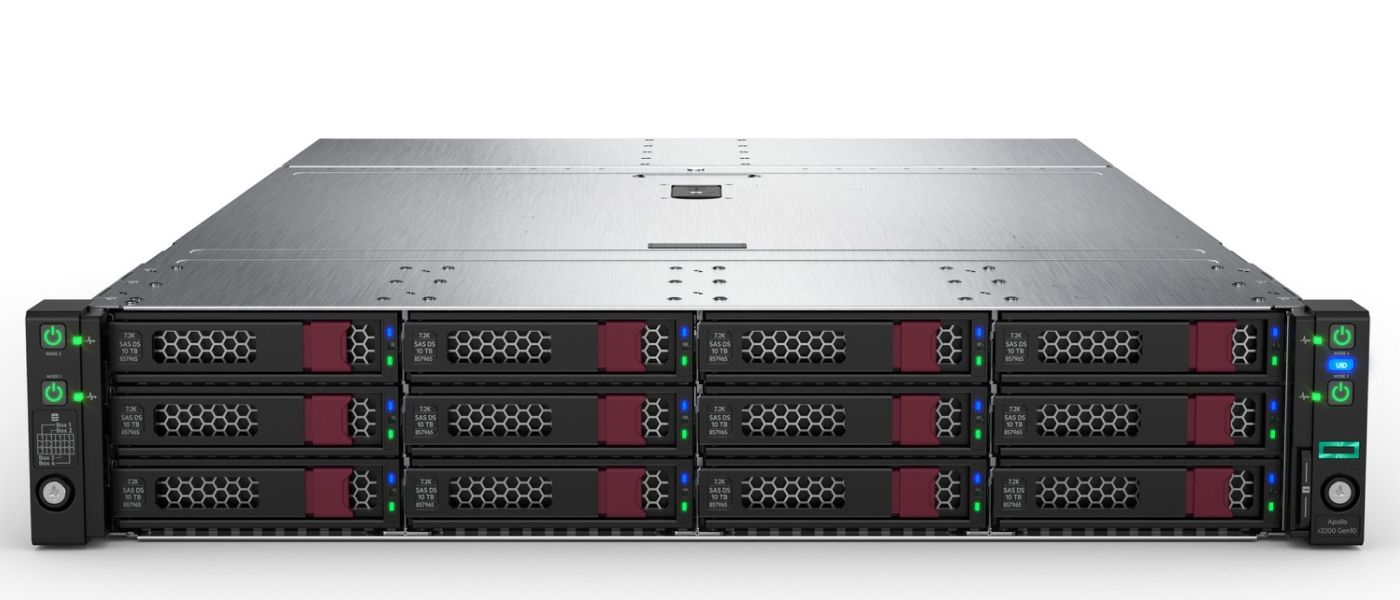 HPE APOLLO 2000 GEN10 disk system example
choose network and cluster options due to the presence of I / O ports - SUV (Serial USB Video, 2x USB, 1xVGA via adapter cable), USB 3.0, Management (port for iLO5), Network (FlexibleLOM under 1Gb, 10Gb, 100Gb Ethernet, 100 Gb/s EDR InfiniBand, 100 Gb/s Omni-Path), FibreChannel, Expansion Slots (up to two PCI-Express 3.0);

Power supplies and server nodes are placed at the back.
In addition, a presented platform uses Intel Xeon Scalable processors for high performance computing, large amounts of memory, additional accelerators, high-speed HPC clusters (arrays of server nodes) with low latency. All of listed technical characteristics significantly increase the functionality of presented solution.
Features of HPE APOLLO 2000 GEN10
HPE Apollo 2000 Gen10 features include:
form factor. Standard 42U rack could accommodate up to 20 HPE Apollo 2000 chassis to install up the 80 server nodes. The large selection of configurations and hardware components provide to a customer an opportunity to create the most efficient IT infrastructure for solving the specific problems;
presence of Intel Xeon Scalable processors as the computing basis of a system. In particular, the 2nd generation Intel Xeon Scalable CPU (Cascade Lake) with support for Bronze, Silver, Gold and Platinum lines. Processors support from 4 to 26 cores, clock speeds up to 3.6 GHz and power 85-150 W;
operation of Cascade Lake processors with DDR4 2933 MT / s memory, (in total, there are 16 slots for DIMM modules for all CPUs). The amount of RAM could be increased up to 1.5 TB. HPE DDR4 SmartMemory delivers high levels of performance, reliability and efficiency. A wide range of server memory solutions enables to productively manage your growing Apollo 2000 Gen10 workloads by increasing capacity, throughput and uptime. HPE SmartMemory also works in conjunction with HPE Active Health System, allowing track the changes in a server hardware configuration and monitor a memory health throughout the life cycle;
security provided by using HPE Integrated Lights Out (iLO 5) system - a modular mechanism for automated server management. The Silicon Root of Trust technology is also responsible for a server security. It allows to safely restore a server to the latest operating state, as well as the checking with firmware compromises and send the alerts about code breaches.
Separately, I would like to highlight a presence of the server nodes HPE ProLiant XL170r Gen10 (1U half-width) or HPE ProLiant XL190r Gen10 (2U half-width).
In the chassis, they could be arranged as follows:
4 servers 1U,
2 servers 1U + 1 server 2U,
2 servers 2U.
Designed specifically for HPE Apollo 2000 Gen10, these server nodes are highly flexible, dense and powerful.
ProLiant XL170r Gen10
ProLiant XL170r Gen10 is more suited to handling standard mode workloads.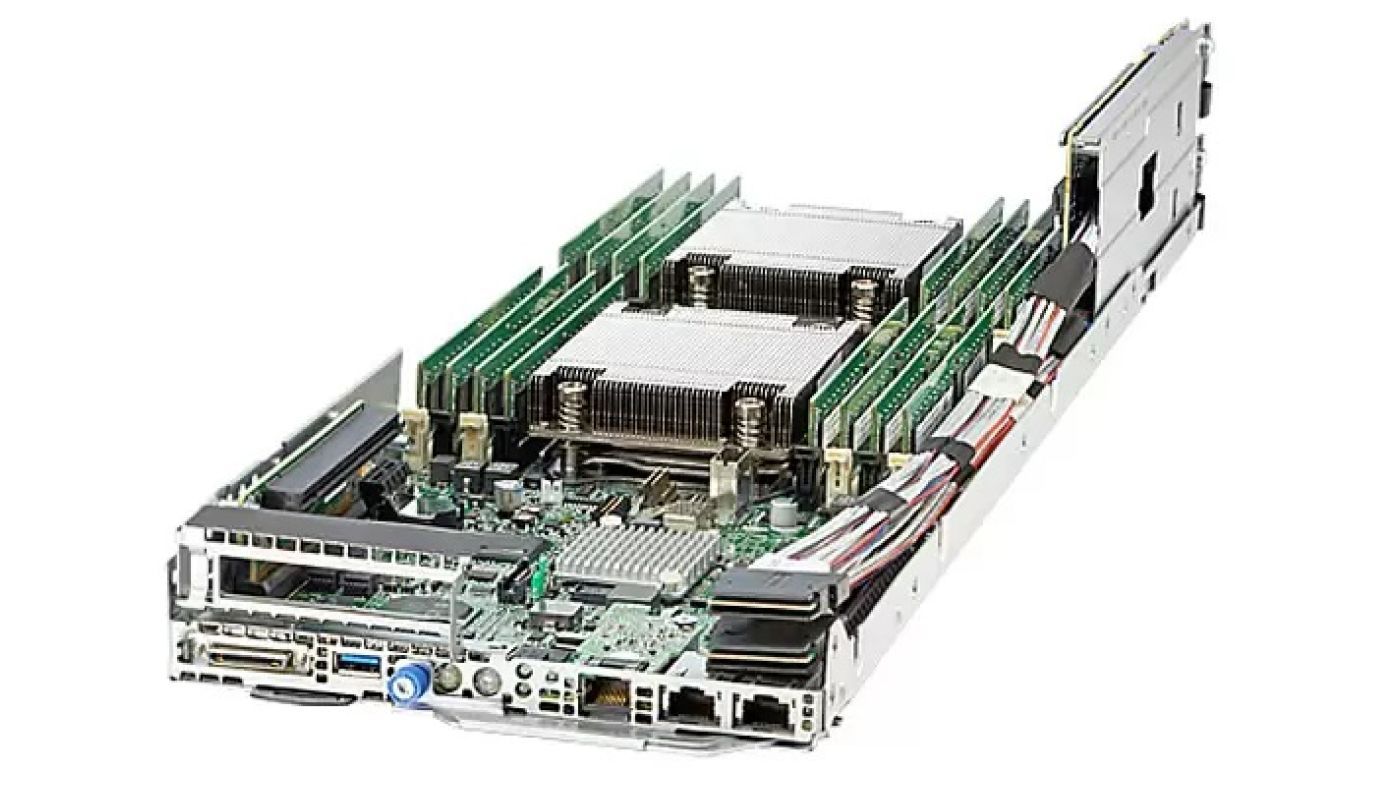 ProLiant XL170r Gen10
A processor of Intel Xeon Scalable CPU family is used as well as DDR4 memory with the ability of accommodation up to 16 slots.
ProLiant XL190r Gen10
ProLiant XL190r Gen10 better suited to support graphics related workloads.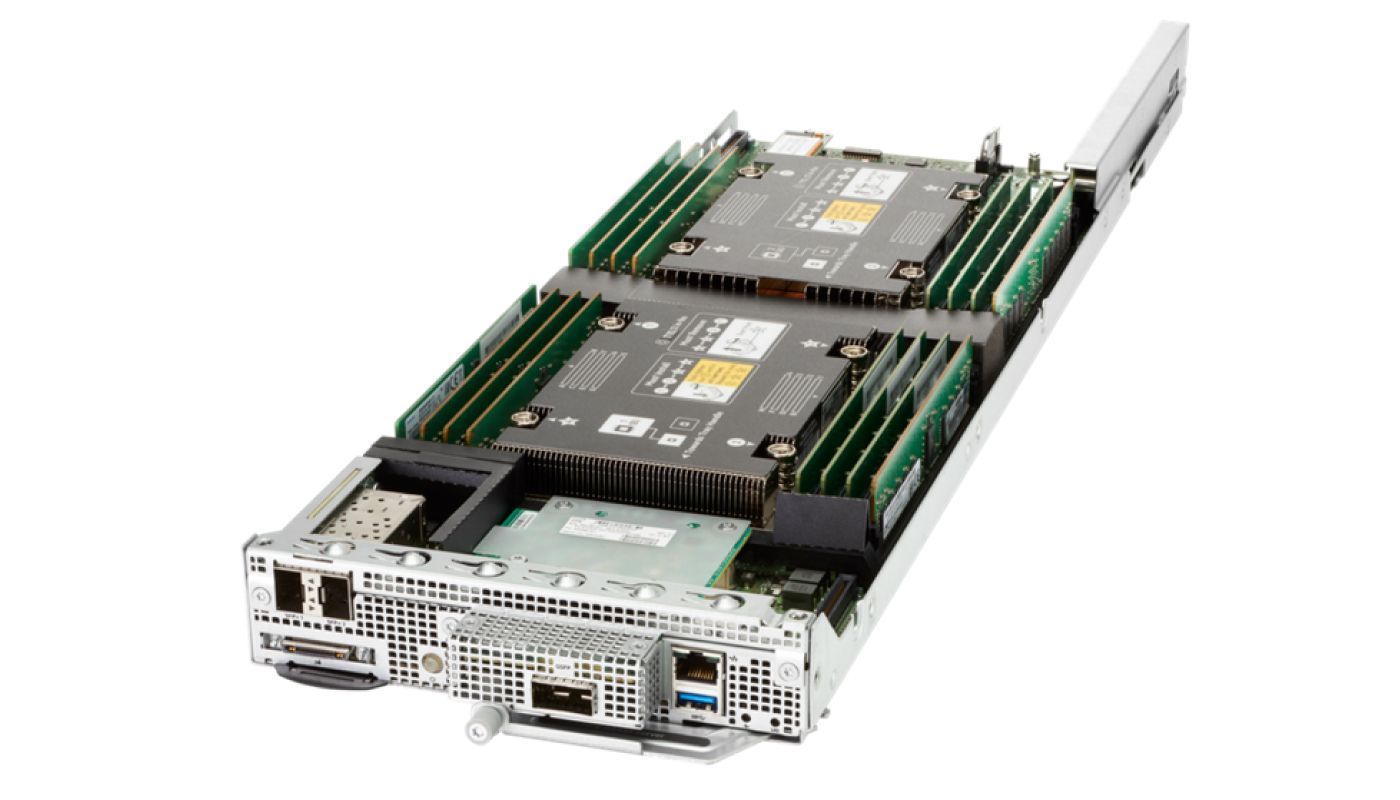 ProLiant XL190r Gen10
A processor of Intel Xeon Scalable CPU family is used as well as DDR4 memory with the ability of accommodation up to 16 slots.
A distinctive feature supports up to 2 graphics adapters by each server node, that creates the conditions for an operation the resource-demanding applications.
These server nodes could be mixed and combined as well as could be serviced individually without affecting other nodes in the same chassis in time the reducing server downtime.
In addition to all these features, HPE Apollo 2000 Gen10 has a high fault tolerance and good headroom, and also allows to unify the tasks of switching, storage, power supply and cooling for each individual chassis. Therefore, the presented solution quickly pays for itself the funds invested in it and reduces the operating costs.
Application area
Apollo 2000 Gen10 system will be a good hardware option for VDI/Remote Workstation, File/Email Server, hyperconverged infrastructures (VSAN Ready Nodes are available), and High Performance Computing (HPC) segment, providing a significant increase in computing power, that is not affects on a compactness of a case.
A presented server solution is most often used to support a critical computing, to analyze the large amounts of information, to support the information resources from the various vendors, to operate in a dynamically changing information environment and to have a deal with the business intelligence applications.