Equipping a data center, realizing cloud computing, and providing hosting services often requires the purchase of expensive, powerful equipment with a high level of flexibility and scalability. HPE 3PAR StoreServ 8000 data storage systems have an architecture specially optimized for interaction with flash memory and provide high efficiency and data mobility. Therefore, these data storage systems can be a good option for many companies.
HPE 3PAR 8000 review

HPE 3PAR StoreServ 8000 storage models are 2U rackmount designs suitable for SSD storage. The height of the 3PAR StoreServ 8000 can be increased to 4U, and the storage system can be easily upgraded by connecting external drives, integrating controllers, and adding disk shelves. The system can accommodate up to 24 Small Form Factor drives (SFFs), expanding disk space up to 3 Pb. It also includes two built-in high-performance Intel Xeon processors coupled with 96 GB of memory, allowing the system to efficiently cache all data and store it. A minimum of two redundant controllers are included, with the option to add up to two more for additional redundancy. The system supports RAID 1, RAID 5, and RAID 6.
HPE 3PAR StoreServ 8000 storage quickspecs

HPE 3PAR Key Features:
System reliability,
Compression and intelligent deduplication,
Rational distribution of information across all media,
Speed and logging of all operations.
Due to its complex data protection with app-based management, high storage density, and unified protocol support for block and file processing, the HPE 3PAR StoreServ 8000 data storage systems are all-in-one solutions for large, medium, and small businesses.
Main functions:
Enhanced security across all VMs, enabled by HPE 3PAR Remote Copy replication for VMware vVols volumes and Target Driven Federated Zoning supported by HPE Smart SAN. This allows a quick response to unforeseen changes.
Increased efficiency of Fiber Channel networks for 3PAR all-flash storage, achieved by using dual-port 32Gb/s FC HBAs. This reduces the number of required ports while doubling the efficiency compared to a 16Gb/s quad-port HBA, which is particularly important when solving complicated tasks, and for FC port connections.
Ensured storage efficiency as workload increases, thanks to the use of tools for deduplication, data compression, and packaging included in HPE 3PAR Adaptive Data Reduction software. Reasons for limiting storage efficiency are eliminated through horizontal scaling of the architecture and the capability to connect flash drives. The number of input/output operations can reach up to 1 million IOPS.
Infrastructure upgrades for EMC, HDS, and IBM storage, and storage optimization at the data center level, achieved through reliable and practical 3PAR StoreServ 8000 data migration schemes.
Variety of HPE 3PAR 8000 models

Below, we will consider four main models in the HPE 3PAR 8000 family:
The HPE StoreServ 8450 is an all-flash-based system designed for the data center and fast-growing businesses. The architecture of such data storage systems integrates SAP HANA Tailored Data Center Integration technology, optimizing and fully utilizing solid-state memory. These systems are suitable for interaction with resource-intensive applications and can handle high loads.
HPE StoreServ 8440. Data storage systems of this model feature a fully meshed Full Mesh architecture, ensuring uninterrupted operation despite increased system loads. Both SSDs and HDDs can be installed, with a maximum storage capacity of 3000 TB. In addition, the StoreServ 8440 incorporates Thin Express ASIC technologies (to offload storage controller CPUs) and Thin Provisioning technologies (to dynamically allocate platform capacities).
HPE 3PAR 8400 is a storage system with high capacity and unified management. This model is equipped with a QoS function, improving network service quality, increasing throughput, reducing delay time to around one millisecond, and making the equipment less sensitive to jitter.
3PAR StoreServ 8200. This storage system is optimally suited for data centers with increasing load and large IT architectures due to its flexibility, scalability, and good fault tolerance. It is based on an architecture adapted to work with flash memory, which reduces limitations on its performance.
New HPE 3PAR 8000 data storage systems features
Several updates have been applied to the HPE 3PAR StoreServ 8000 storage system:
HPE InfoSight Advanced Performance Analytics technology, accessed through the HPE SSMC 3.4 management console, helps eliminate management bottlenecks and streamline troubleshooting.
Persistent Checksum technologies ensure the safety of data during its transfer from server host adapters to storage drives and vice versa. Persistent Cache technologies allow for cache mirroring between all array controllers, and Persistent Ports technologies assign a partner port on another controller for each host port of the system. Peer Persistence technologies enable the formation of fault-tolerant solutions in Windows or VMware environments for switching between sites when any of the arrays fail. These technologies help ensure continuous access to data even during hardware failures.
HPE Advanced HBA can be used to eliminate storage bottlenecks and improve flash storage efficiency.
Disk arrays of the HPE 3PAR Remote Copy technology are used to support various types of data replication: synchronous, asynchronous, asynchronous-periodic, streaming, and synchronous for three data centers located at a long distance. This technology does not require the installation of additional equipment for moving logical volumes between storage systems.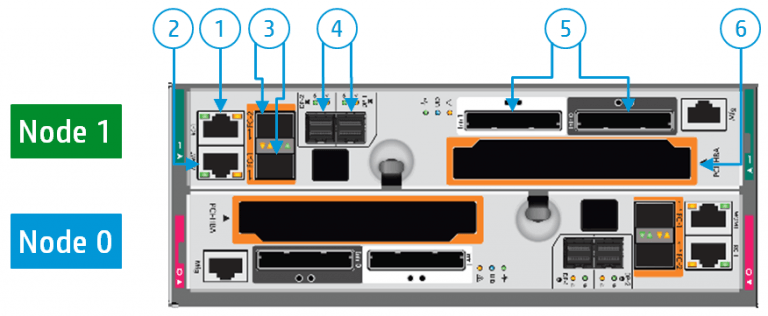 The following table lists datasheet for the HPE 3PAR 8000 family
Specifications
3PAR StoreServ 8200
3PAR StoreServ 8400
3PAR StoreServ 8440
3PAR StoreServ 8450
Number of controller nodes
2
2 or 4
2 or 4
2 or 4
HPE 3PAR Gen5 ASICs
2
2 or 4
2 or 4
2 or 4
Processors
2 x 6-core 2.2 GHz
2-4 x 6-core 2.2 GHz
2-4 x 10-core 2.4 GHz
2-4 x 10-core 2.4 GHz
Flash Cache
(optionally)
768 GiB
1536 GiB
8000 GiB
NA
Total Cache
832 GiB
1664 GiB
8384 GiB
384 GiB
On-Node Cache
64 GiB
128 GiB
384 GiB
384 GiB
Total Cache per node pair
832 GiB
832 GiB
4192 GiB
192 GiB
Flash Cache per node pair
768 GiB
768 GiB
4000 GiB
NA
On-Node Cache per node pair
64 GiB
64 GiB
192 GiB
192 GiB
Maximum number of initiators is supported
2048
4096
4096
4096
Maximum number of host ports
12
24
24
24
Embedded 1GbE ports
2
2 - 4
2 - 4
2 - 4
2U controller node storage capacity
24
24
24
24
Number of SSDs
6 – 120
6 – 240
6 – 480
6 – 480
Number of hard drives
6 – 240
6 – 576
6 – 960
NA
Maximum unprocessed capacity (approx.)
750 TiB
2400 TiB
3000 TiB
1843 TiB
Maximum unprocessed capacity (only SSD)
838 TiB
1676 TiB
3351 TiB
3351 TiB
Usable file capacity
2 - 128 TiB
2 - 256 TiB
2 - 256 TiB
2 - 256 TiB
RAID levels
RAID 0, 1, 5, 6
RAID 0, 1, 5, 6
RAID 0, 1, 5, 6
RAID 0, 1, 5, 6
Storage capacity (SSD)
300 15K - 1800 10K SAS
2000 7.2K - 8000 7.2K NL
300 15K - 1800 10K SAS
2000 7.2K - 8000 7.2K NL
300 15K - 1800 10K SAS
2000 7.2K - 8000 7.2K NL
NA
3PAR 8000 series models are compatible with Microsoft Windows Server (2008, 2008 R2, 2012, 2012 R2), Red Hat Enterprise Linux (RHEL), Microsoft Windows Hyper-V, HP-UX, SUSE Linux Enterprise Server (SLES), VMware (ESX and ESXi), Oracle (Solaris, UEK, Linux), IBM IX, HPE OpenVMS (registered version only), Citrix XenServer, Apple OSX.
HPE 3PAR StoreServ 8000 series storage solution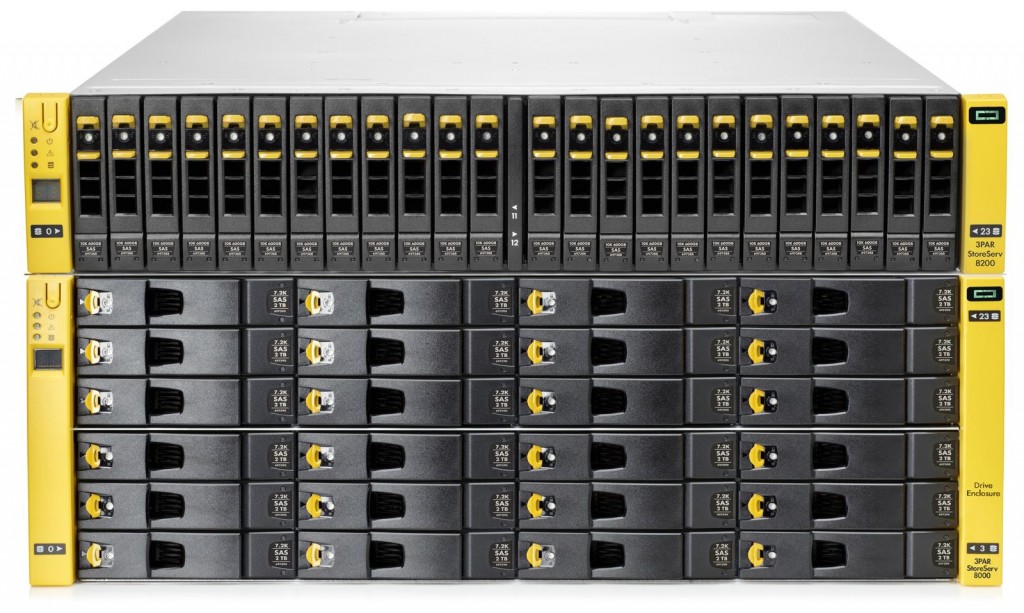 Disk shelves, also known as JBOD (Just a Bunch of Disks), are a type of server equipment used for storing information, similar to storage systems. However, there are significant differences between storage systems and JBOD. Storage systems are equipped with a board with processors, RAM, a network interface, disk controllers, and software. In these systems, the controllers are responsible for processing data flow.
While routers and switches are used in building local networks, they serve different purposes. They interact with multiple networks of various architectures, distribute traffic between devices, and provide an internet connection.
On the other hand, JBODs are enclosures containing extension controllers, disks, and power supplies. They are used to increase storage capacity, but a storage system can operate without them. Importantly, JBODs cannot operate independently.
Conclusion
If you're looking for a reliable enterprise-class storage system that fits your data center or business needs, we recommend considering the StoreServ 8000 series family. This storage system features an innovative architecture, robust fault tolerance, efficiency, mobility, and substantial flash memory capacity.