HPE ProLiant DL360 Gen10 Server is an updated HPE rack server solution that delivers high-performance for a wide range of data processing and demanding business applications.
It provides impressive compute power for your IT system and supports potential business growth and advancement.

Front of HPE ProLiant DL360 Gen10 10SFF
Performance and Capabilities:
form factor - 1U;
number of sockets - up to 2 CPU for 9.6 GT/s or 10.4 GT/s, depending on the server model;
supports DDR4 SmartMemory RAM with 2666 MH/z. Total RAM is limited to 6 TB;
CPU - Intel Xeon Scalable (Platinum, Gold, Silver, Bronze) with up to 28 cores (which ensures the high scalability level), max frequency - 3.6 GHz. Servers are equipped with one or two processors.
The server is equipped with 24 DIMM slots and 3 PCIe 3.0 expansion slots and two Flex Slot power supplies. To ensure the integrity of HPE ProLiant DL360 Gen10 servers, a security firmware is integrated at the hardware level.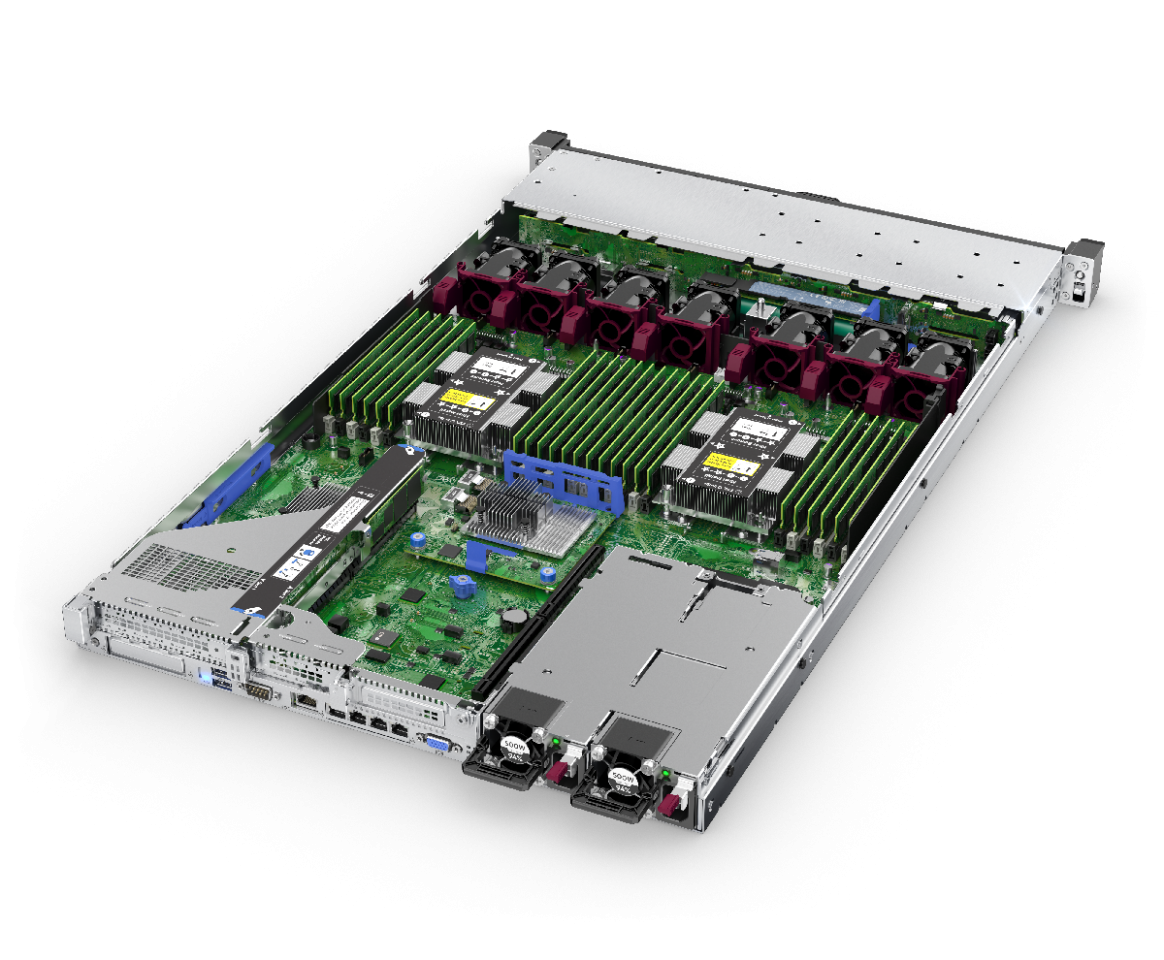 Inside of HPE ProLiant DL360 Gen10
With Runtime Firmware Verification, enabled by HPE iLO Advanced Premium Security Edition, the server firmware is checked every 24 hours while the server is running without disruption to ensure intrusions are detected as soon as possible.

Rear of HPE ProLiant DL360 Gen10
HPE OneView 3.1, HPE iLO 5, and iLO Amplifier Pack solutions automate deployment, upgrade, monitor, and maintain processes throughout the server lifecycle.
Advantages over the Gen9
With the improved technical and performance features HPE ProLiant DL360 Gen10 servers provide faster, more secure, more flexible results than the previous generation. These are the main advantages:
bandwidth increased by 66% (256 GB/Sec for Gen10 and 154 GB/Sec for Gen9);
Intel Xeon Scalable Family processors provide a 71% increase in the server performance;
HPE Persistent Memory Modules and NVMe drives increase the efficiency of the HPE ProLiant DL360 Gen10 servers by 82%.
HPE ProLiant DL360 Gen10 higher performance is ensured by the following software upgrades: Intelligent System Tuning (IST) technologies (for the performance optimization), Jitter Smoothing, Core Boosting (core acceleration), Workload Matching.
Purpose of the HPE ProLiant DL360 Gen10 Servers
The HPE ProLiant DL360 Gen10 2-socket single-unit servers are optimally suited for a variety of the workloads, these are some of the examples:
on-premises and in hybrid cloud infrastructures;
in data centers;
for testing systems and the fastest possible deployment of the new products;
in virtualization systems configured through a management console.
The HPE DL360 Gen10 servers take compute-intensive, virtualization and control suites to the next level.
DL360 Gen10 Configurations:
HPE ProLiant DL360 Gen10 servers are configured to integrate either a premium chassis backplane (to accommodate 10 SFF NVMe or SAS/SATA drives) or an 8 + 2 SFF and 4 LFF drive chassis (this design depends on the model).
There are 2 chassis types:
4 LFF (3.5") SAS/SATA drives, 8 SFF (2.5") SAS/SATA drives, and 2 NVMe drives;
10 SFF (2.5") SAS/SATA drives, 10 SFF NVMe drives, 1 optional SFF drive, or 1 Dual uFF drive in the rear bay.
These storage subsystem options are intended to improve server performance and to support the new uFF and M.2 storage features.
iLO remote control module
HPE Integrated Lights-Out (iLO) arms you with the tools to manage your servers efficiently, resolve issues quickly, and keep your business running – from anywhere in the world. The iLO management tool allows a user to perform the following actions on the server remotely:
Power management. In a case of OS failures or hardware problems, this feature allows you to quickly restore the system;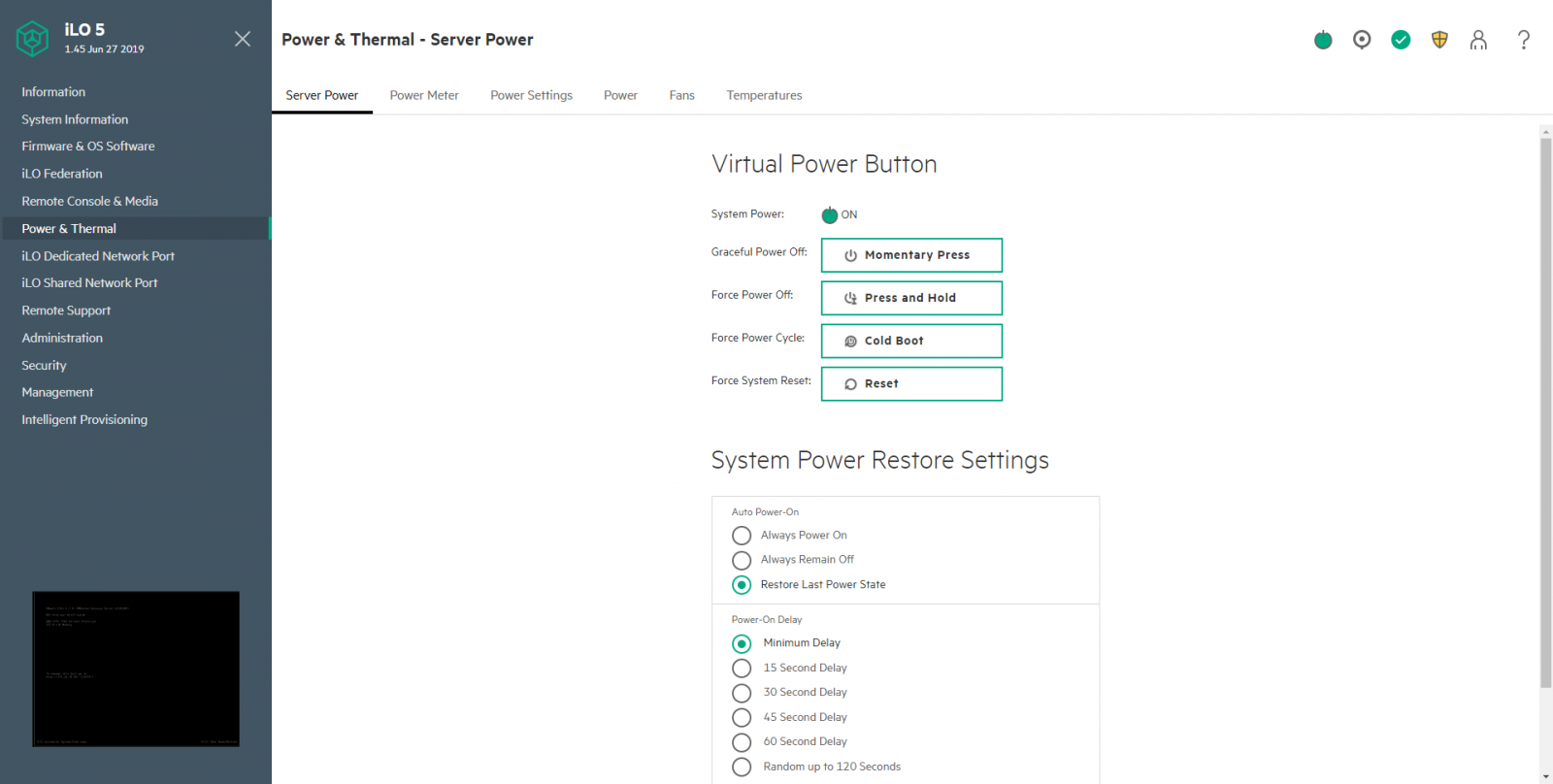 System status monitoring. This feature allows you to evaluate the health of all server components, collects data on hardware devices and monitors their status in detail. All information is recorded in the event log (AHS log).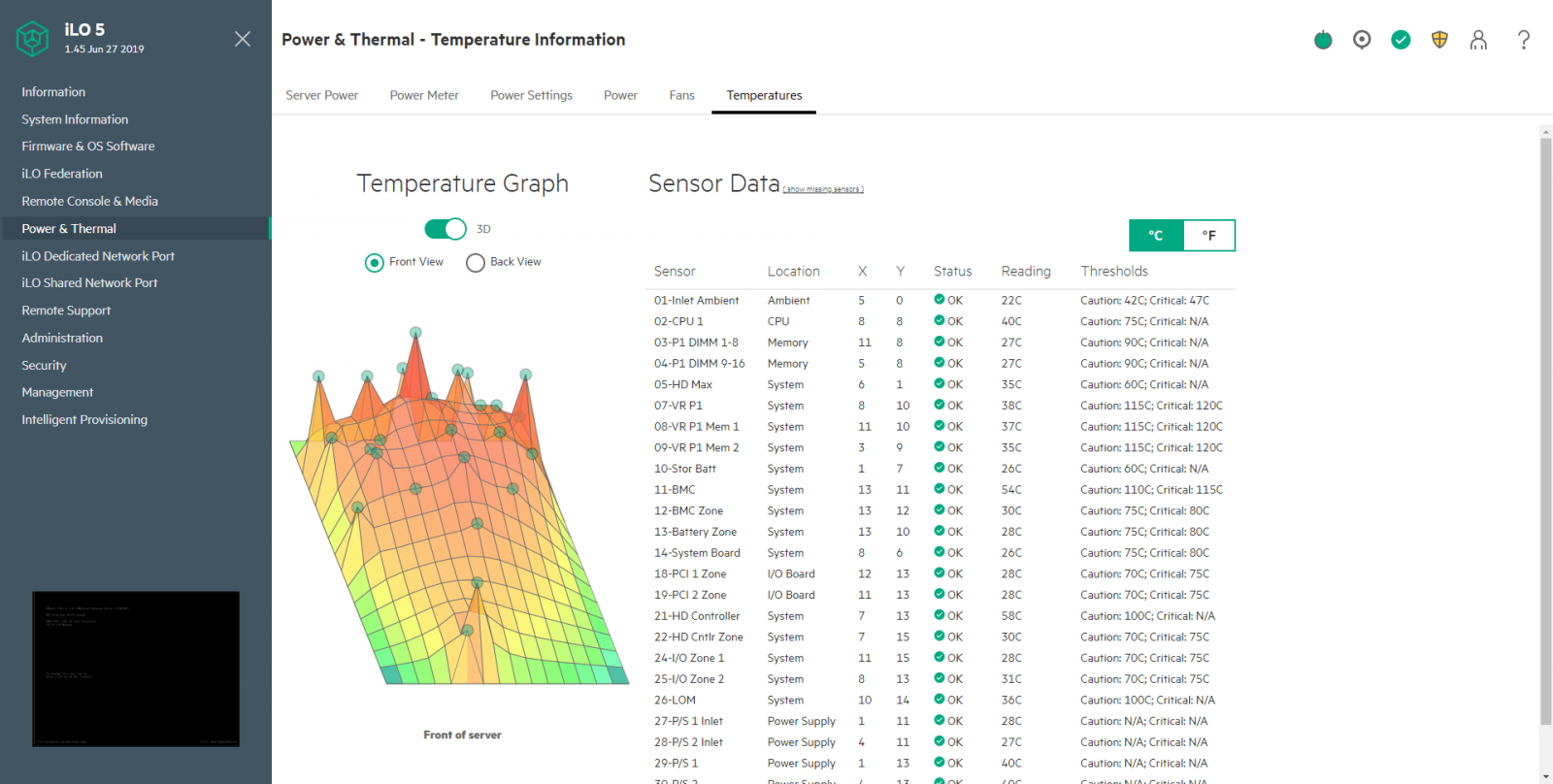 iLO technologies help to simplify the work with the server and solve complex problems of scaling essentially, to power the management or provisioning of access rights to the server.
Pros and Cons of HPE ProLiant DL360 Gen10 servers
Despite to all its advantages, the HPE ProLiant DL360 Gen10 servers have a several disadvantages.
The main disadvantage is the high price. For example, a configuration with Intel Xeon Gold 6240 and 192 GB of RAM will cost approximately 2,500.00 USD, and with a pre-installed HDD or SSD, the price can get up to 4,000.00 USD. At the time of writing.
Another significant drawback of the HPE ProLiant DL360 Gen10 servers is their high "requirements" for drives from other vendors. Non-original drives, such as Seagate, will need to be flashed for HPE.
However, despite these disadvantages, the HPE ProLiant DL360 Gen10 is optimally suited for all forms of business, since the servers of this line can be used for the cloud server, network gateway, or to implement different accounting platforms. High performance and reliability will quickly pay off the money invested in this equipment.